In FIFA 23, players can choose various pre-built options to customize the camera angle for the perfect view. You can also adjust zoom, height, and other factors to get a proper perspective of the entire field. Camera settings can be changed while playing game modes like Career Mode, Online Seasons, and Ultimate Team. The default setup may not provide the perfect vision, which is why there is a range of camera options players can choose from. Here's how to change the camera angle in FIFA 23.
How to switch cameras in FIFA 23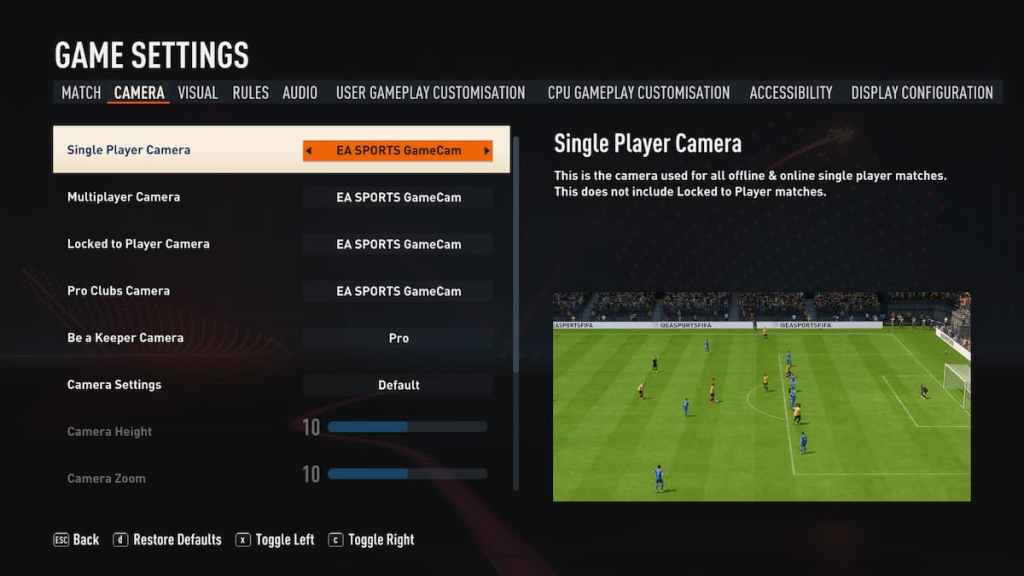 To change the camera angle in FIFA 23, visit Game Settings. Navigate to the Camera tab, and you will find various options. In this tab, you can change Single Player, Multiplayer, Pro Clubs, Be a Keeper, and Locked to Player Camera settings. For Be a Keeper, we recommend keeping End to End or Pro camera angle as it gives you more visibility across the field. The angle options in Single Player, Pro Clubs, and Multiplayer Camera are as follows:
Default
EA Sports GameCam
Tele Broadcast
Tele
Co-op
Classic
Dynamic
End to End
Pro
Broadcast
Related: How does AcceleRATE work in FIFA 23
Similarly, you can customize the angle for Be a Keeper Camera. We recommend changing these settings beforehand as you may not get enough time during a match. Additionally, players can also adjust Camera Settings by changing it from Default. Select the Custom option in Camera Settings to change Camera Height, Camera Zoom, Pro Camera Zoom, Pro Camera Speed, and Pro Camera Swing. You can also switch on the Power Shot Zoom feature in the Camera tab. This adds a dynamic camera treatment when your players attempt a Power Shot during matches.
For more on FIFA, check out Who are the top 23 players in FIFA 23? or What is Player Career Personality in FIFA 23? on Pro Game Guides.