Carnage Hall rewards in Dying Light 2 Bloody Ties DLC are special vanity items or weapon packs that players can redeem by earning Opera Tokens or Mutation Samples. After getting them, you may wonder what you can redeem them for after. Here's everything you need to know about Cranage Hall Rewards listed below:
All Carnage Hall Rewards in Dying Light 2 Bloody Ties DLC
Players can get Opera tokens by completing the available arena challenges once Carnage Hall is unlocked. But for Mutation Samples, players must kill Special Infected. Luckily there will be ample chances to kill Special Infected during most arena challenges. Once you earn a few Opera Tokens and Mutation Samples, you can redeem your rewards by searching for a Hall Vendor called Pappy. Speaking to Pappy will allow you to redeem both Opera Tokens and Mutation samples for the rewards listed below:
Weapons (Equipable)
Outfits (Cosmetic)
Blueprints (Unlocks various weapon mods)
Gear (Equipable)
Golden Gladiator Armor Set (Equipable)
All items but weapons will cost a varying amount of Opera Tokens. But to purchase weapons from the Hall Vender called Pappy, you must bring ample Mutation Samples. Most weapons will also cost from a range of 800 to 1000 Samples per weapon. The weapons you can redeem for Mutation Samples also come in different rarities and require a certain Fame Rank.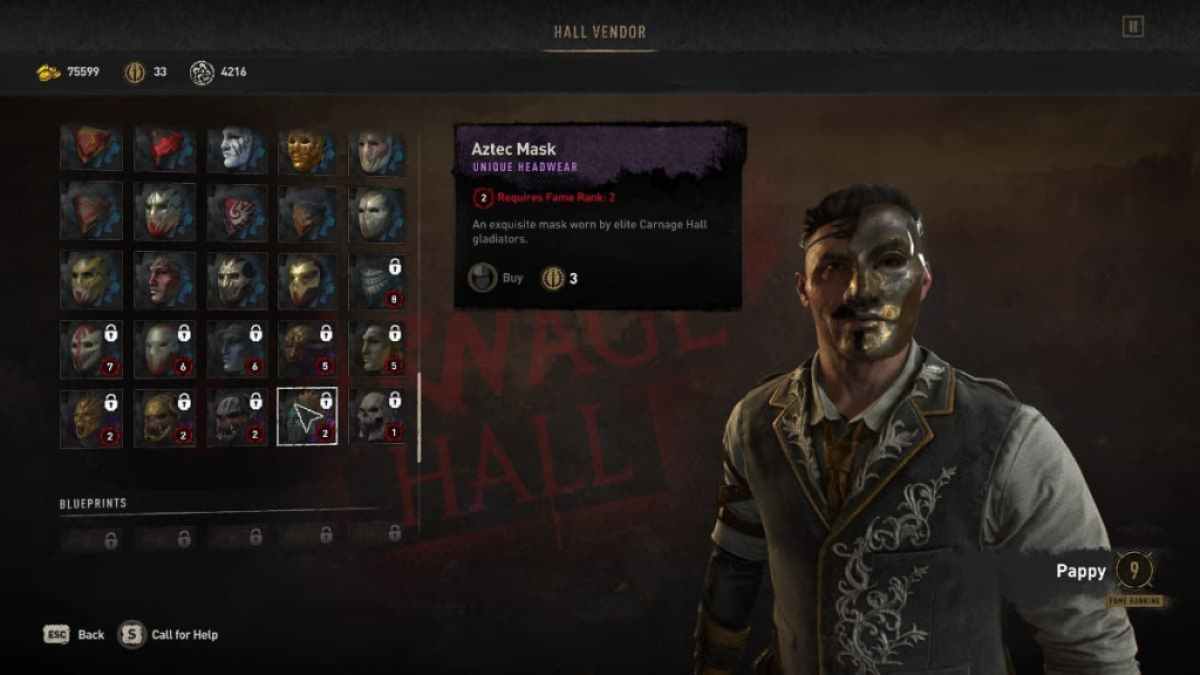 Related: Everything in Update 1.4.0 of Dying Light 2 – Chapters, Bounties, and other features
How to Redeem Opera Tokens for rewards in Dying Light 2 Bloody Ties DLC
Players can redeem Opera Tokens for rewards by speaking to the NPC called Pappy at the main entrance of Carnage Hall towards the right of the doorway facing inward. For a visual reference, you can find him left of the other two Hall vendors shown below:
Hold your interaction key, and you will open the Carnage Hall Rewards menu, where you can redeem your tokens or Mutation Samples for various items. But for Opera Tokens, you can only redeem them for anything but the weapons on offer. For weapons, you will need to farm Special Infected to earn Mutation Samples. Bring these Mutation Samples, and you can redeem them for the various weapons rewards Pappy has. However, you can't redeem some weapons or items until you reach a certain Fame Rank.
How to unlock Carnage Hall Rewards in Dying Light 2
To unlock more Carnage Hall Rewards, players must complete arena challenges and rank up in the Tournament. The more challenges players complete will earn Fame points that will increase their Fame Rank, placing them higher and higher in the Tournament. The highest rank players can earn is Fame Rank one which they can only get by beating the entire Carnage Hall Tournament in Dying Light 2 Bloody Ties.
For more on Dying Light 2, we at Pro Game Guides have you covered with guides like Dying Light 2 Bloody Summer Event is Live – How to earn Seasonal Rewards and How to use Photomode in Dying Light 2.