The holiday festivities are far from over in Roblox Adopt Me. Last week the Winter Holiday Update event kicked off with tons of new festive pets and minigames, but now there is even more to enjoy. The Winter Holiday Sale has officially started. That means new festive pets and 60% off plenty of decorations, accessories, houses, gamepasses, and more!
How to Shop the Winter Sale
From a cheaper pet Robo Dog to a discounted Millionaire Mansion, there are tons of items on sale during the Adopt Me Winter Sale event. To see the full list of Winter Sale goodies, launch Adopt Me and press the Shop Button on the right side of the screen. This is the easiest way to view the full list.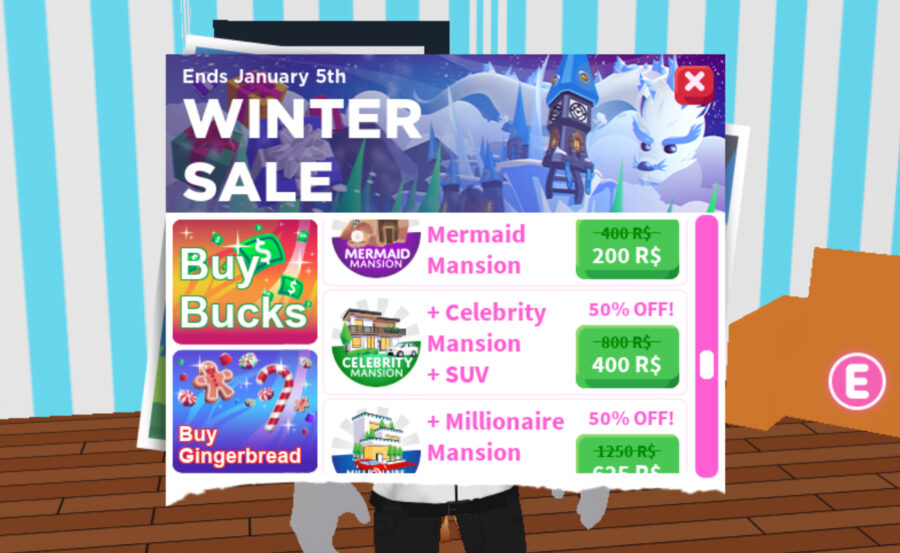 However, if you would like to browse some the Winter Sale goodies in person, head over to the Pet Shop, where pets and accessories are on display.
Winter Sale - Pet Prices
Other Winter Sale Deals
Houses
Modern Mansion - 175 Robux (was 350)
Mermaid Mansion - 200 Robux (was 400)
Celebrity Mansion + SUV - 400 Robux (was 800)
Millionaire Mansion + Luxury Car - 625 Robux (was 1250)
Family Home + 200 Bucks + Multi-Bike - 80 Robux (was 99)
Vehicles
3 Legendary Royal Carriages - 600 Robux (was 1,499)
3 Legendary Supercars - 400 Robux (was 1,000)
Heart Hoverboard - 15 Robux (was 35)
Glider - 160 Robux (was 399)
Miscellaneous
VIP Room Access + Exclusive Limo + VIP Chat Tag + 100 Bucks - 499 Robux
Make a pet permanently flyable by feeding them this magic potion - 220 Robux (was 295)
Make a pet permanently rideable by feeding them this magic potion - 110 Robux (was 150)
The perfect treat to tame a wild Bee, King Bee, or Queen Bee - 150 Robux (was 199)
The perfect treat to tame wild Penguin or Golden Penguin - 167 Robux (was 225)
Throw down a dance party wherever you go! - 65 Robux (was 85)
Instantly teleport to your house from anywhere! - 90 Robux (was 150)
Sell Ice Cream to your friends to earn Bucks! - 210 Robux (was 350)
Sell Hot Dogs to your friends to earn Bucks! - 55 Robux (was 95)
Sell Lemonade to your friends to earn Bucks! - 30 Robux (was 50)
Move your home to any glowing space near the Nursery - 220 Robux (was 449)
Play custom music at home using a Radio - 175 Robux (was 350)
Use any premium face in Dress Up - 99 Robux (was 199)
Pet Accessories
Pirate Pet Wear Set - 300 Robux
Adopt Me - Bucks Discounts
50 Bucks - 18 Robux (was 24)
200 Bucks - 71 Robux (was 95)
600 Bucks - 210 Robux (was 280)
1,400 Bucks - 487 Robux (was 650)
3,000 Bucks - 1,040 Robux (was 1,385)
10,000 Bucks - 3,450 Robux (was 4,600)
Winter Sale General Information
Check out this video for a brief overview of the Adopt Me Winter Sale, which started today at 8 am PT/11 am ET/4 pm GMT. Below we have more details on all of the discounted prices for pets, accessories, and VIP servers.
When will the Winter Sale End?
Does the Winter Sale cost real money?
Technically yes. Most of the sale items cost Robux, which will cost real money if you don't have any saved on your account. These are all the types of currency that can be used during the Winter Sale:
Robux (for most Winter Sale items, including Winter Sale pets)
Bucks (in-game Adopt Me currency, used to buy Pet Toys)
Gingerbread (Winter Event currency, used in the Ice Castle)
The types of currency is kind of confusing, but as you explore all that is available during the Winter Sale, hopefully it will make more sense what you can spend on.
Can I spend Gingerbread on the Winter Sale Pets?
No. You can, however, still spend Gingerbread on the festive pets that came out last week during the Winter Update event. Festive pets are different than Winter Sale pets. Festive Pets are found in the Ice Castle and Winter Sale pets are found in the Pet Shop.
---
If you're looking for codes that offer free rewards, we have a ton of them in our Roblox Game Codes post! You can also get a bunch of free stuff via our Roblox Promo Codes page.