In this Roblox role-playing game, you must take down monsters of epic size on your search for fame and glory. As a young adventurer pursuing life as a hero in world full of vicious beasts, you must collect Gold and Skulls to increase your character stats and purchase powerful equipment. The more powerful the monster, the higher the payout!
Fortunately, Monster Madness developer Fantastic Entertainment periodically provides players with codes that you can claim for exclusive in-game rewards. Most of these codes will provide Gold or Skulls (the two primary forms of currency in the game), but they can also grant you rare pets or multipliers! Whatever they provide, the codes list below is the fastest way to get what you need to boost yourself ahead as a hero.
If you find our Monster Madness codes helpful, don't forget to check out our full list of codes for hundreds of other Roblox games. We have the most up-to-date codes for similar RPG Roblox games like Dragon Fighting Simulator, Blox Firearms Simulator, Giant Simulator and Weapon Fighting Simulator. If you want to try another slash and loot game like this one, use our codes for Treasure Quest!
All Roblox Monster Madness Codes List
Updated June 14, 2022

Added new codes
Monster Madness Codes (Working)
Here's a look at all the working Monster Madness codes.
monster—Redeem for 400 Gold (New)
madness—Redeem for 400 Skulls (New)
fantastic—Redeem for 250 Gold (New)
slayer—Redeem for 650 Gold (New)
250likes—Redeem for 200 Gold (New)
Monster Madness Codes (Expired)
These Monster Madness codes no longer work.
No expired Monster Madness codes!
Roblox Monster Madness Frequently Asked Questions
Here are answers to some of the most frequently asked questions about Monster Madness and common issues players encounter.
How to redeem Monster Madness codes
Redeeming codes for free rewards in Monster Madness is easy.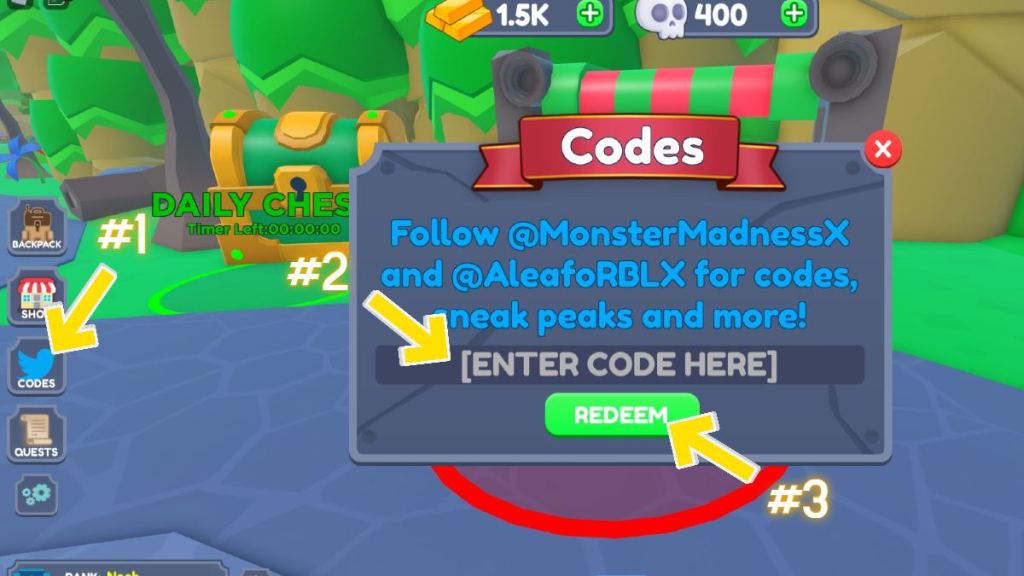 In the game, press the Twitter Bird/Codes button on the left side of the screen.
In the text box, enter the code exactly as it appears in the list above.
Press the Redeem button to claim your reward!
How can you get more Monster Madness codes?
As with many Roblox games, it requires a collective effort from the players to get the developers to add more codes to the game. While some codes are randomly dropped during special events, developers are encouraged to add more content and codes when their players support the game. If you like and favorite the game on the Roblox page, it helps push their ratings past specific thresholds, for which they add codes as a reward.
If you want to get the codes immediately when they are released, you can follow the developer on Twitter. Alternatively, you can join the official Discord server to interact with the community and developer and sometimes catch extra codes that you missed. You can also join the Roblox Group Page to catch exclusive codes that they don't add to their social media!
What are Skulls and how do I use them?
Skulls are a form of currency in Monster Madness that serve only to purchase pet eggs and unlock the Corrupted Zone. You can buy pet eggs in any main area by approaching whatever large egg-shaped object is there, the selecting purchase (in the first area, it is a green, leafy egg by the fountain). If you want to unlock the Corrupted Zone, simply walk up to the zone entrance (the purple doorway) when you have enough Skulls and purchase the area!
What is Monster Madness?
Monster Madness is an RPG Roblox game where you must slay monsters to collect Skulls and Gold. It works in the same way that many Roblox simulator games work, but adds elements of adventure. Gain notoriety as a fearsome beast-slayer and make your way to the top of the leaderboards by collecting resources to purchase Pets, Weapons, and Upgrades for your character!
If you're looking for codes for other games, we have a ton of them in our Roblox Game Codes post! You can also get a bunch of free stuff via our Roblox Promo Codes page.