Magic: The Gathering Arena is digital version of a classic card game. In this digital format, you can create a deck and play in a fantasy world created by the Wizards of the Coast. This card format was a direct inspiration for games like Hearthstone, The Elder Scrolls: Legends, Legends of Runeterra, and others.
As is the case with every collectible card game, it takes time to build competitive decks. To speed up the process, you can use Magic: The Gathering Arena codes and claim rewards that include decks, cards, experience, and card styles. This way, you'll be battle ready in no time!
If you like card games, check out great guides like Best Card Games on PC, Best Clans in Monster Train, Ranked, Best Hearthstone Legendaries, and What is the Pokémon Card Maker on Pro Game Guides. We have plenty of lists and guides to make you a top-tier player!
All MTG Arena Codes
Updated May 30, 2022

Added new Magic: The Gathering Arena codes.
Magic: The Gathering Codes (Working)
Here's a look at all the active MTG Arena codes.
SuperScry—Redeem for Opt card + card style
ENLIGHTENME—Redeem for Narset, Parter of Veils card style
FNMATHOME—Redeem for two random cosmetics
FunIsntFree—Redeem for Cabaretti Sleeve
CrimeIsAnArtForm—Redeem for Maestros Sleeve
PlayZendikar—Redeem for 3 Zendikar Rising Packs
TRYKALADESH—Redeem for one Kaladesh Remastered Pack
PlayKaldheim—Redeem for 3 Kaladeheim Packs
PlayStrixhaven—Redeem for 3 Strixhaven Packs
LevelUp—Redeem for 2000 experience.
PlayEldraine—Redeem for 3 Throne of Eldraine Packs
PlayTheros— Redeem 3 Theros Beyond Death Packs
PlayIkoria—Redeem for 3 Ikoria Lair of Behemoths Packs
PLAYM21—Redeem for 3 Core Set 2021 Packs
PLAYMID—Redeem for 3 Midnight Hunt Packs
PLAYVOW—Redeem for 3 Crimson Vow Packs
PLAYNEO—Redeem for 3 Kamigawa: Neon Dynasty Packs
PLAYNEOALCHEMY—Redeem for 3 Neon Dynasty Alchemy Packs
ParallaxPotion—Redeem for Revitalize card + card style
SparkleDruid—Redeem for Druid of the Cowl card + card style
OVERTHEMOON—Redeem for Arlinn, Voice of the Pack card style
InformationIsPower—Redeem for Obscura Sleeve
INNERDEMON—Redeem for Ob Nixilis, the Hate-Twisted card style
SHIELDSUP—Redeem for Teyo, the Shieldmage card style
WRITTENINSTONE—Redeem for Nahiri, Storm of Stone card style
ReadTheFinePrint—Redeem for Brokers Sleeve
AlwaysFinishTheJob—Redeem for Riveteers Sleeve
FoilFungus—Redeem for Deathbloom Thallid card + card style
ShinyGoblinPirate—Redeem for Fanatical Firebrand card + card style
PLAYDND—Redeem for 3 Forgotten Realms Packs
MTG Arena Codes (Expired)
These codes for Magic: The Gathering Arena no longer work.
PLAYSNC
RockJocks
DebateDuelists
MathWhizzes
SwampPunks
ArtClub
SCALEUP
PlayRavnica
COURIERBAT
RestorativeBurst
TreeFriend
PlayWarSpark
PlayM20
GOLDENCOMMUNITY
ThatsWild
Crumbelina
HappySwamp
DelightfulMeadow
BingoIVMythicChamp
TisAScratch
MoveMountains
FiveBonusLevels
PlayEldraine
FoodCourt
StarterStyles
CIRCUITMENDER
OneBillion
MTG Arena FAQ
Here's everything you need to know about MTG Arena codes in one place.
How to redeem Magic: The Gathering Arena codes
Claiming prizes in MTG Arena is easy.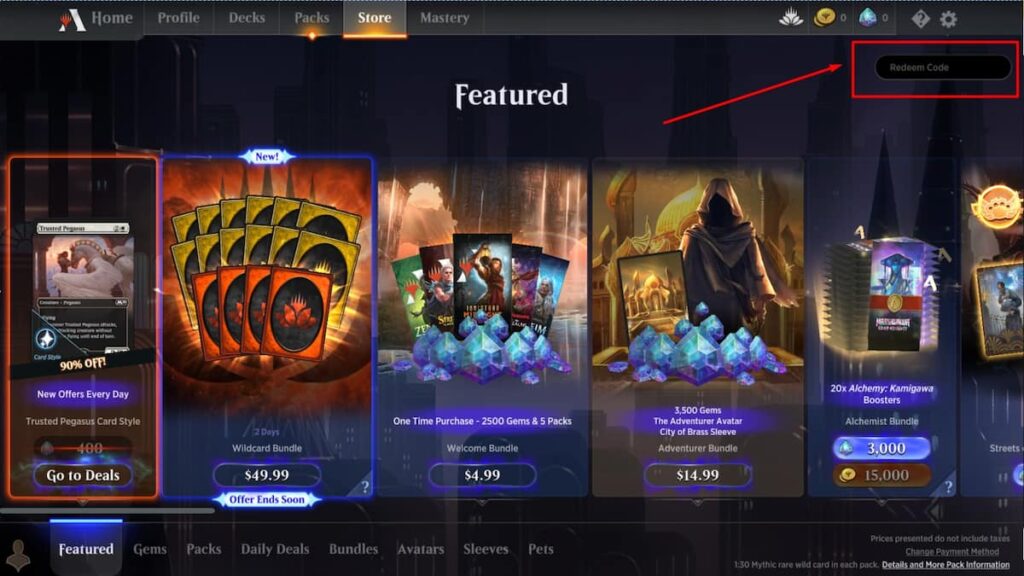 In the game main menu, press the Store button.
In the text box in upper-left corner, enter the code exactly as it appears in the list above.
Press the Enter key on keyboard to claim your reward!
There's another way to redeem Magic: The Gathering Arena codes.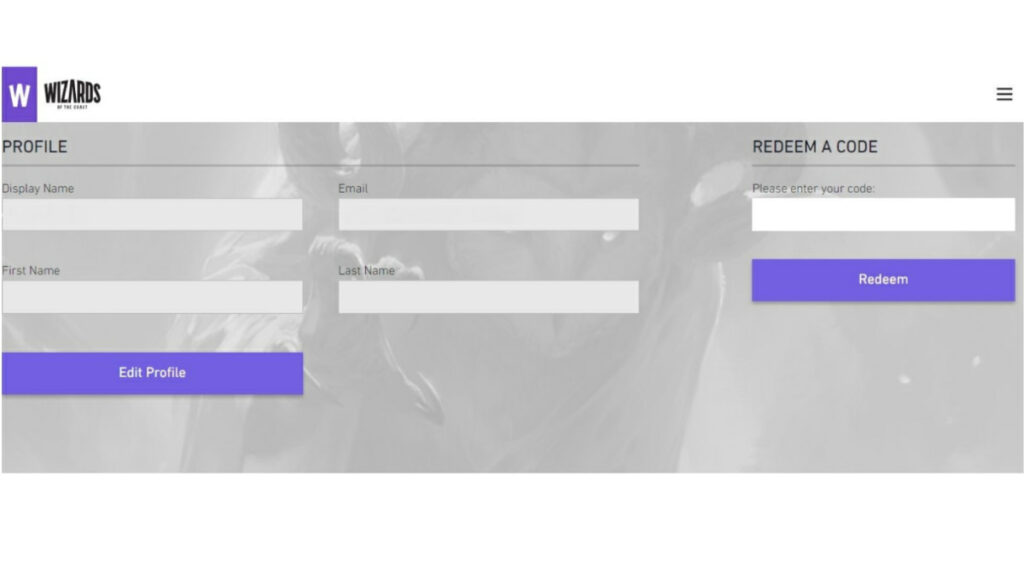 Visit Wizard of the Coast's Player Account page.
Login with your email and password (register if you don't have an account).
In the text box in the upper-left corner, enter the code exactly as it appears in the list above.
Press the Redeem button to claim your MTG Arena reward!
How can you get more MTG Arena codes?
The best place to keep track of MTG Arena codes is this page, so be sure to bookmark and visit it for any updates. You can also follow the official Magic: The Gathering Arena Facebook, Twitter, or Twitch page.
Why aren't my MTG Arena codes working?
If some codes don't work, check if you entered them correctly. Just copy and paste the codes to avoid typos. If the codes still don't work, they may have expired, so claim your prizes as soon as possible.
What is Magic: The Gathering Arena?
MTG Arena (sometimes called Magic Arena and MTGA) is a card game where you need to create a deck with excellent card synergy. As it's an online game, you'll have a chance to test your mettle against other MTG players.
If you're looking for codes for other games, we have a ton of them in our Game Codes post! You can also get a bunch of free stuff via our Roblox Promo Codes page.