Time to get sweaty in Realm Royale! We all love a good battle royale game here, and Realm Royale is a classic. On an ever-shrinking map, you will need to battle it out with other players to get that victory by using all the abilities and weapons given to you in this mystical world! No time to be a chicken. It's battle time!
The codes in Realm Royale will give you free Skins and in-game resources but make sure that you claim these codes as soon as possible because they are only available for one player to redeem!
We have you covered when it comes to guides you need to be a better player in the Realm, try our Realm Royale Best Weapons and Guns, Realm Royale Map – Notable Spots, Forge Locations, & More!, and Realm Royale Best Class. Try Best Fortnite Puzzle Map Codes and Fortnite Parkour Maps Codes List for more codes in your favorite Battle Royale games.
All Realm Royale Codes List
Updated August 23, 2022

The forge has led us to these codes!
Realm Royale Codes (Working)
Here's a look at all the working Realm Royale codes.
There are currently no working codes for Realm Royale.
Realm Royale Codes (Expired)
These codes are no longer valid in Realm Royale.
Alpha 1 Warrior
OB22A100678291001
OB22A100ACFF91001
OB22A101B00091001
OB22A101DB0291001
OB22A102A94E91001
OB22A10335EB91001
Anarchist Assassin
Bad Egg Spray
RRBEE002ED5790620
RRBEE003B0E290620
RRBEE00B81CE90620
RRBEE010DC0090620
RRBEE014EE5990620
RRBEE018369090620
Breakdance Emote
RRBDE0009A1E90620
RRBDE006D42790620
RRBDE009E20890620
RRBDE00B10E790620
RRBDE00E2D6390620
Ember Emu
OB22EE00751791001
OB22EE00D42691001
OB22EE01330391001
OB22EE02599D91001
OB22EE026F8691001
OB22EE02B6AD91001
Forgefire Knight
RRFK0E71994890228
RRFK0E9C902590228
RRFK0EA1426690228
Fuzzy Bundle
HRX Bundle
RHRXBE00610691111
RHRXBE00690C91111
RHRXBE00A0AE91111
Ride the Wave
RRRW0460A26890228
RRRW0499FC8E90228
RRRW0543032690228
Screamin' Weenie (PC)
RRSWP0053B390821
RRSWP00960F90821
RRSWP0134A690821
Screamin' Weenie (PlayStation)
OB22005A1791001
OB2200659391001
OB2200667491001
OB22007D2A91001
OB2200E7AC91001
OB22016C6791001
Waddles
RRWDP002F6A90821
RRWDP0167F890821
RRWDP0194A190821
RRWDP01D10190821
RRWDP01E95C90821
Realm Royale FAQ, Answered
Follow our guides for all your questions on Realm Royale.
How to Redeem Realm Royale Codes
It's easy to redeem codes for free rewards in Realm Royale. To do so, follow the instructions below.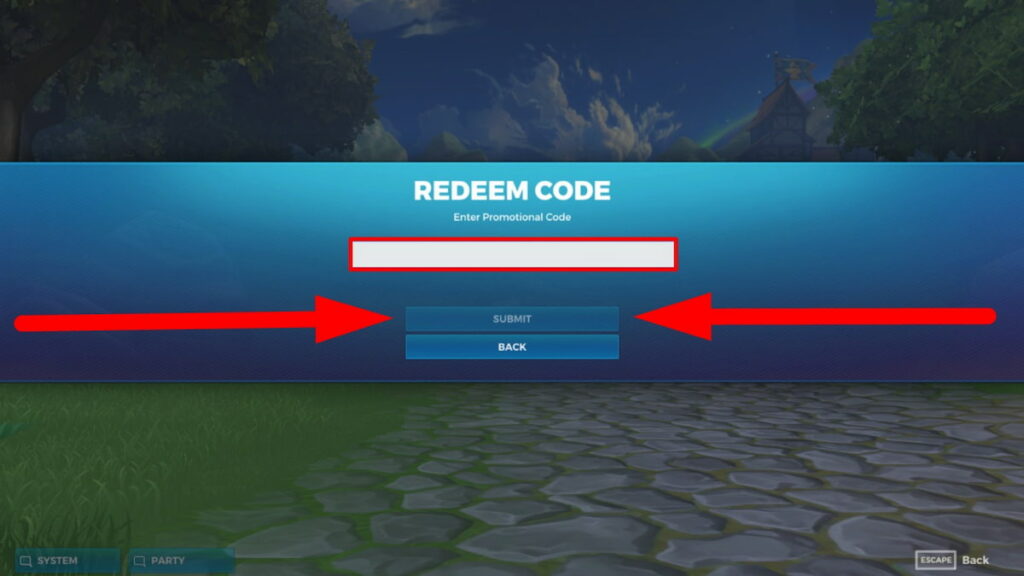 Launch Realm Royale.
In the Main Menu, there is a Redeem Code button at the bottom right-hand side of the screen.
Click on the Redeem Code button and you will be taken to a new window.
Type the code into the Text Box.
Click the Submit button to redeem your free reward.
How can you get more Realm Royale codes?
To get the latest Realm Royale codes from the developer, Hi-Rez Studios, follow them on their social media pages like Twitter @RealmRoyale, their Instagram page realmroyale, and follow them on their Facebook page Realm Royale. We here at Pro Game Guides will keep you up-to-date with all the latest codes for Realm Royale, so bookmark this page and make sure you visit us often to claim these elusive codes!
Why aren't my Realm Royale codes working?
The codes you are trying to redeem for Realm Royale may not be working for a few reasons. These codes may be expired already. Codes have a limited amount of time that you can claim them, so claim these codes the moment you see them on our list to avoid disappointment in missing free rewards. These codes may be misspelled and mistyped into the text box. Copy and paste the codes from our list to avoid making these mistakes.
How many times can you redeem a code in Realm Royale?
Codes for Realm Royale can only be redeemed once. A code will be sent to a player, and that player can only redeem these codes if they choose to do so. Many players offer others their codes, and you can find these unwanted codes in many Reddit threads. Once a code is claimed it can never be used again. So far, there have been over 1600 codes that have been given away since the release of the Beta in 2018.
What is Realm Royale?
Realm Royale is a free-to-play Battle Royale game where players must fight their way to be the last player left in the match. It is a shooter game where you can loot boxes worldwide to find better weapons against other players. There are different modes you can play, join up with friends, and play Squad Battles to defeat other teams to get the victory. Use Forges to upgrade gear and get better abilities to help you take down other players.
If you're looking for codes for other games, we have a ton of them in our Roblox Game Codes post! You can also get a bunch of free stuff via our Roblox Promo Codes page.