Black Marble is a unique resource required to make the Black Forge in Valheim that can produce new and powerful weapons. Getting Black Marble is difficult, as players must locate a strange and mysterious land where it is found in the game. Here you will find everything you need to know about getting Black Marble in the Valheim Mist Lands update.
How to get Black Marble in Valheim
To find and get Black Marble in Valheim, you must travel to the Mistlands in Valheim. After traveling to the Mistlands, you can find Black Marble by locating Giant remains called Petrified Bones and mining the bones. You can also get Black Marble by mining the many structures located in the Mistlands and by killing Dverger dwarfs.
What can you use Black Marble for in Valheim?
After you get Black Marble from mining, either structures or Petrified Bones, you can use it to make several crafting structures and items. The following list contains everything you can make with Black Marble in Valheim:
Black Forge Cooler
Black Forge

10 Ygghdrasil wood
Five Black Cores
10 Black Marble

Mortar and Pestle
Rune Table

10 Black Marble
10 Refined Eiter
Five Yggdrasil wood

Black Marble building parts

Two up to eight Black Marble, depending on the building part.
Where to find Petrified Bones in Valheim
Once you reach the Mistlands Biome, you can find Petrified Bones that give Black Marble by locating large bone mounds spread across the entire Mistlands Biome. There are two types of spawns you can find for Petrified Bones. The first are mounds that spawn inside small Dverger camps, shown below.
You will need at least a Black Metal tier Pickaxe to mine Petrified bones in Valheim. However, mining the Petrified bones inside the Dverger camps will turn the short inhabitants hostile. Luckily, you don't have to wage war on the Dvergers, as you can also find Petrified Bones spawning on their own in the wild, as shown below.
Where to find the Mistlands biome in Valheim
Finding the Mistlands depends entirely on your game, as you must travel far toward the edges of the map. As shown below, you can see Mistlands Biome by looking for dark purple terrain with purple smoke on it. Mistlands Biomes seem to spawn towards the outer mid-section of the map, so we recommend picking a direction from your initial starting area/base and sailing towards it. Sooner or later, you will eventually find the Mistlands. See the images below for an idea of what to keep an eye out for in Valheim: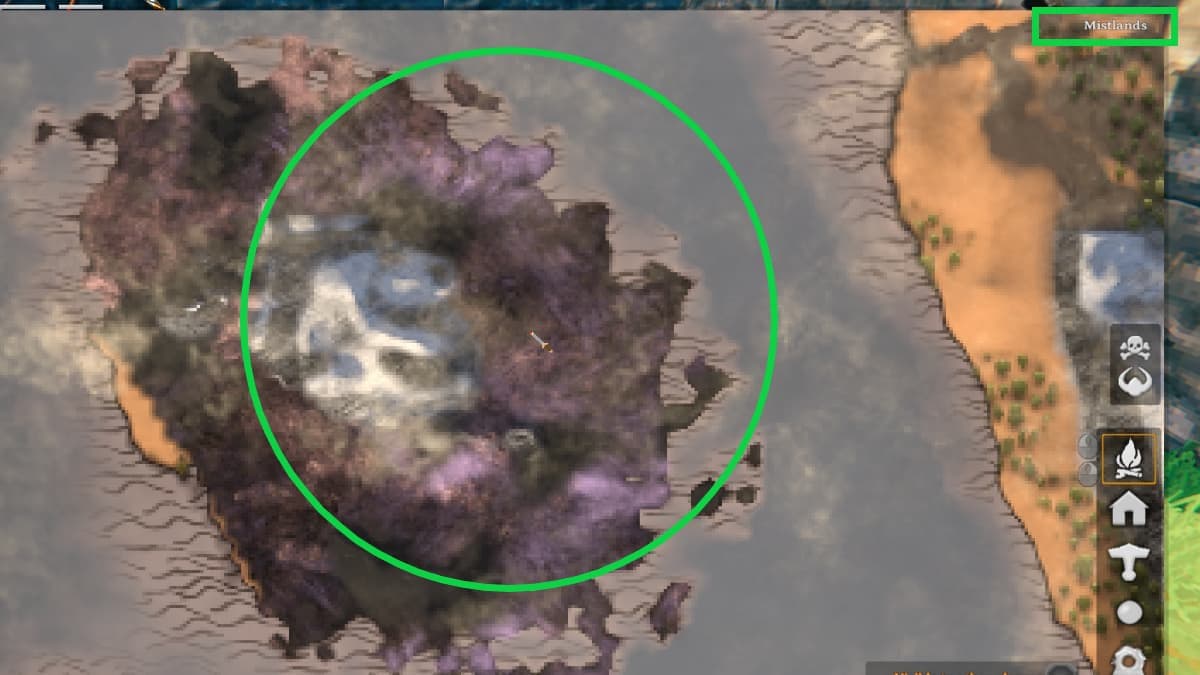 For more on Valheim, we at Pro Game Guides have you covered since launch with guides like How to make a Crossbow Arbalest in Valheim and All Valheim Cheats and Console Commands.