The world of Minecraft can genuinely be stunning with its random terrain generation. Each time you initiate the game, the terrain is generated by an algorithm to make sure every experience is new and unique. Sometimes during world generation, lucky accidents occur, and we get gorgeous terrain features or other desirable outcomes. Here are some of the best Minecraft seeds for the 1.19.3 version of the game we came across.
20 Best Minecraft seeds for the 1.19.3 version
20 - Triple village in the middle of flower fields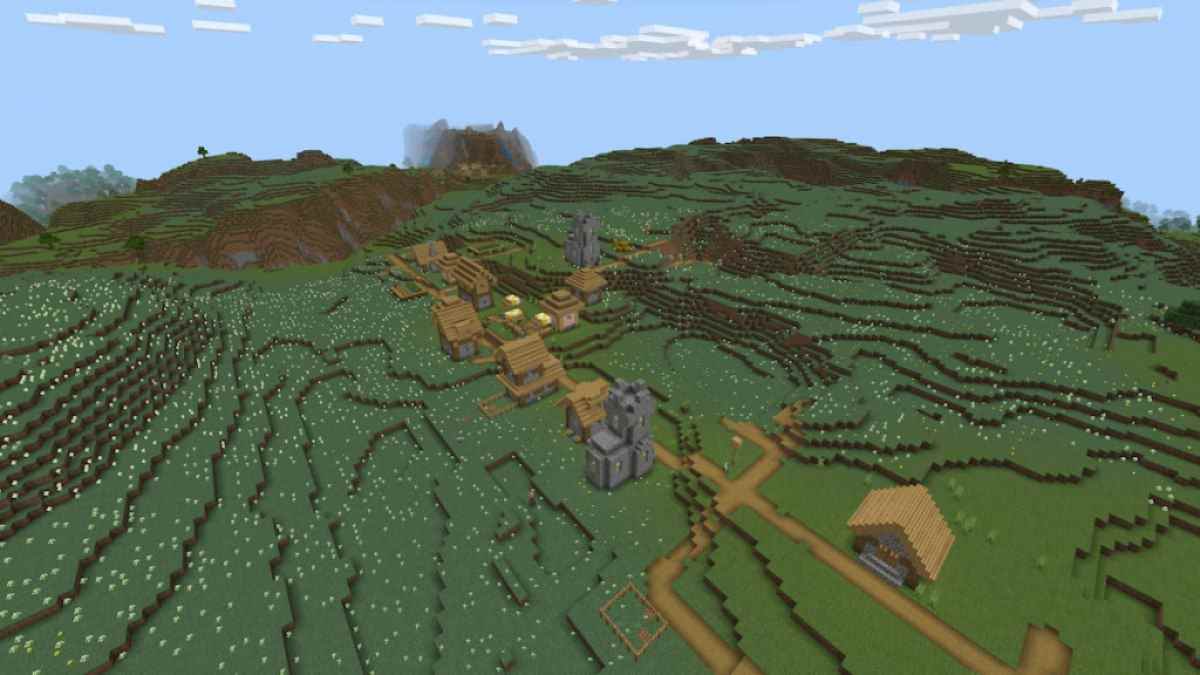 Map seed: 4167799982467607063
Version: Bedrock
This beautiful seed will spawn you in a village surrounded by a flower field. Divided by river canyons, there are two more villages nearby to explore. This unique seed is perfect if you're looking for green pastures and multiple village setups.
19 - Deep Mountain crater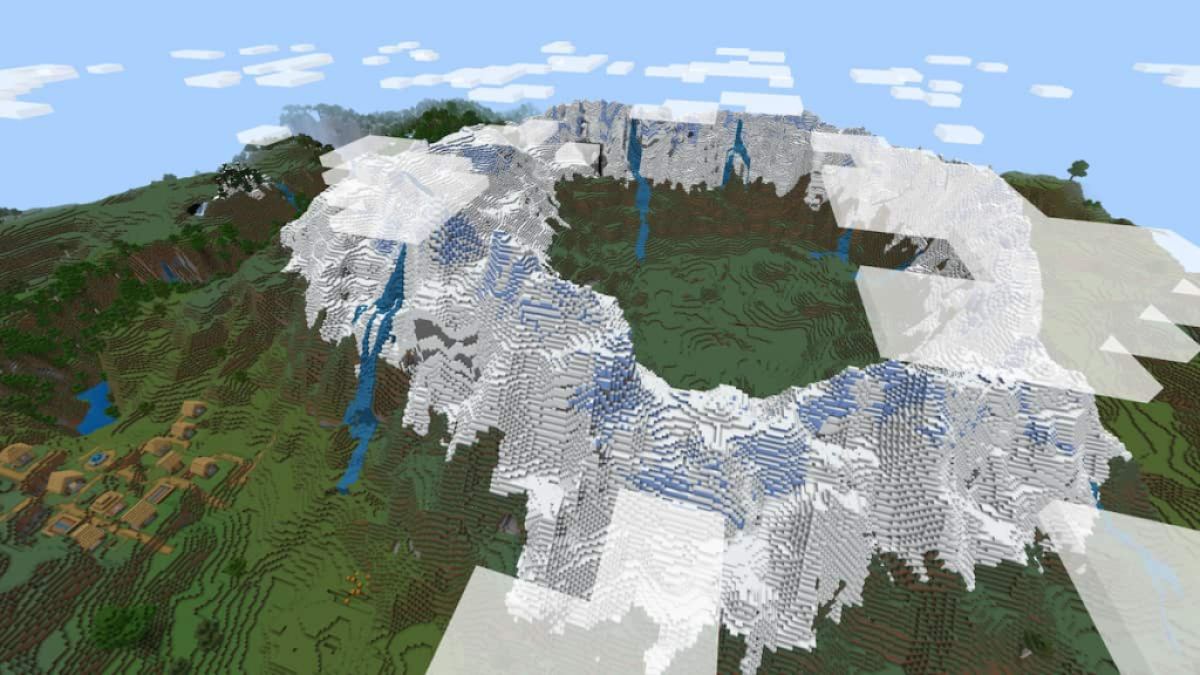 Map seed: -6384763643140243282
Version: Bedrock
This unique seed will spawn you in a crater-like mountain chain with many ravines and mine shafts perfect for exploration. In the middle of the crater, there is a beautiful flowery meadow. If you decide to explore outside of the cavity, you will find a village, an outpost, and a ruined portal nearby.
18 - A Village on a cliffside
Map seed: -4651105460712845864
Version: Java
Villages on the side of a cliff are a rare sight. This seed spawns you right next to the village on the side of the cliff. There are even a couple of houses at the bottom where the river is. Nearby, you can find a gaping ravine ripe for exploration.
17 - Icy Cove
Map seed: 167341299
Version: Bedrock
For those looking for diversity, this seed offers you a gentle mix of greens and icy biomes. It spawns you on a lake surrounded by impressive mountains headed in two directions. If you cross the mountain nearest to you and head for the ocean, you will discover a frozen cliff with an exposed cave ready for exploration or a building adventure.
16 - Nature's eye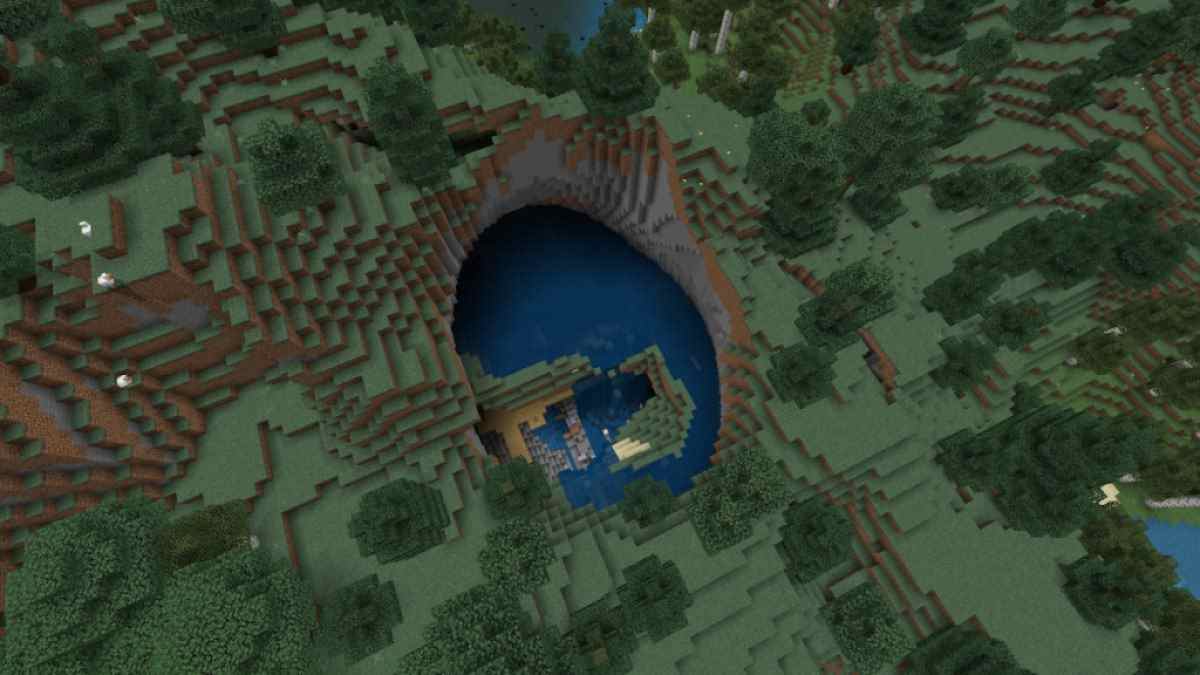 Map seed: 3854341
Version: Bedrock
Coordinates: 1266, 95, 350
This fantastic seed spawns an eye-like natural hole in the earth. When you descend into the pit, you will see a waterfall dripping directly into an exposed abandoned mine shaft. This seed is very lucky, as the surrounding area has interesting geographical features and many other treasure-rich ravines.
15 - Frozen Island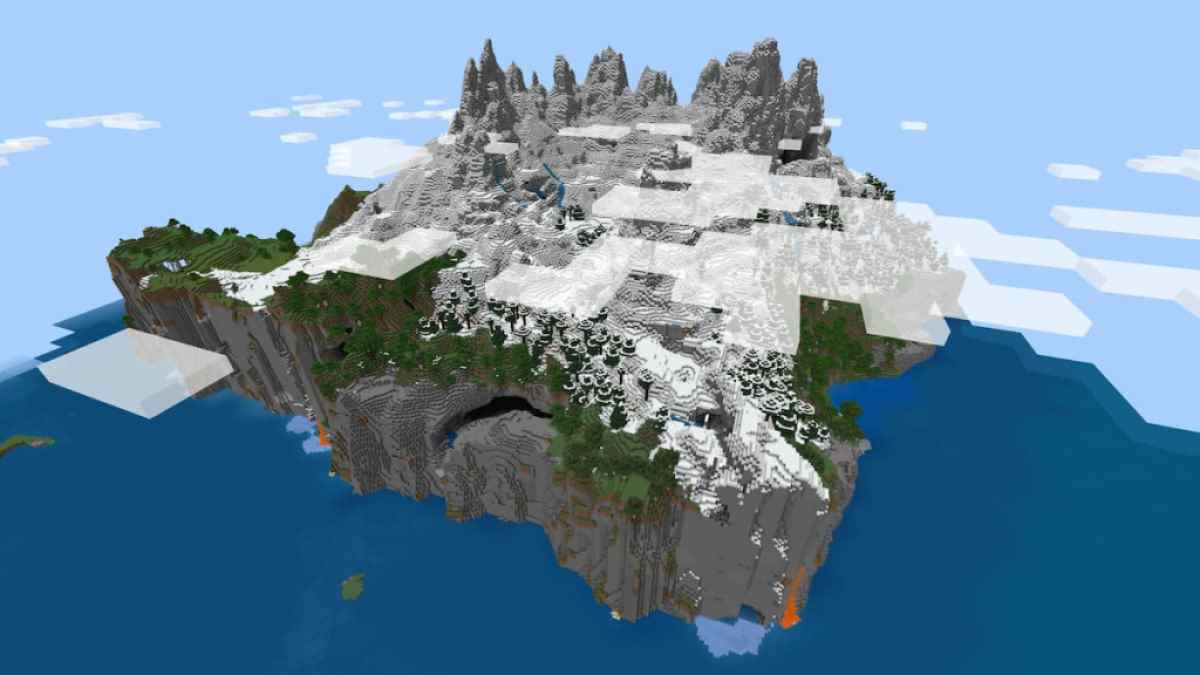 Map seed: -1577177670
Version: Bedrock
With this map seed, you will spawn on a mineral-rich, snow-capped mountainside on a beautiful frozen island. This map is perfect if you're looking for an island-surviving adventure or for creating a PRG scenario. The island has an abundance of hidden ravines and other nooks and crannies, which are great for exploring.
14 - Valley Surrounded by Mountains
Map seed: 18289033
Version: Bedrock
This wonderful seed will spawn you in a beautiful valley. You will find yourself surrounded by stunning snow-capped mountain ranges. If you go over the mountain range in front of you, you will see a gorgeous canyon on the other side.
13 - Hollow Mountain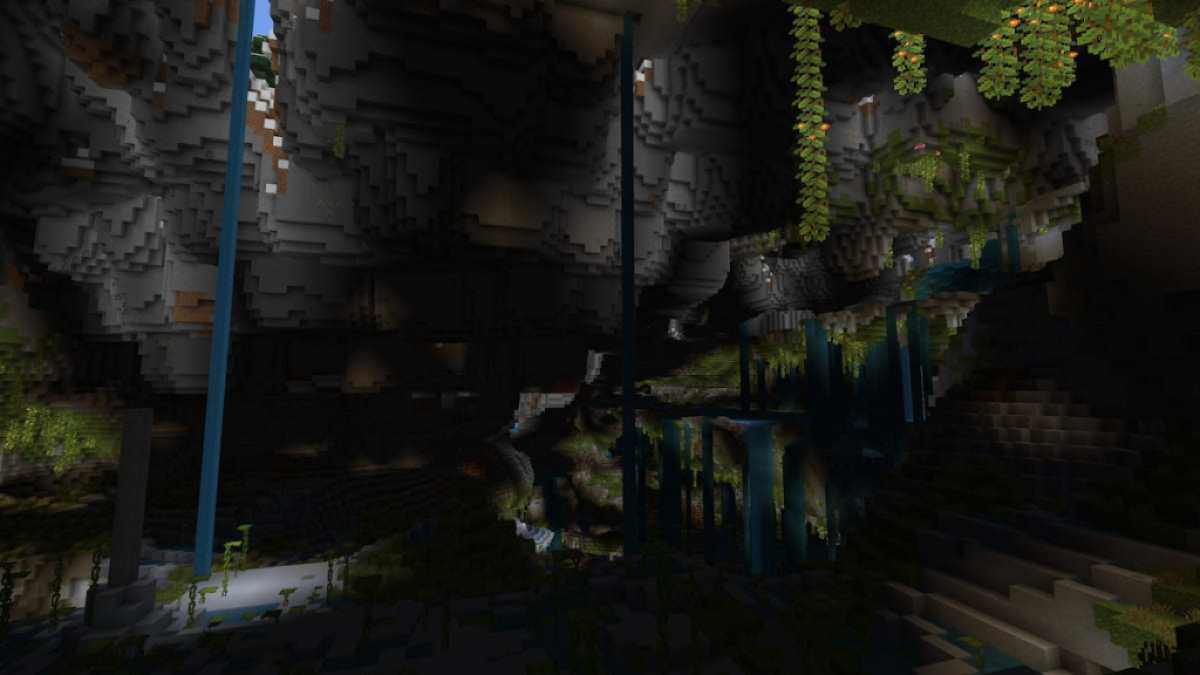 Map seed: 1727502807
Version: Bedrock
Hollow mountain seeds are always sought after by fans of modding Minecraft, and this seed delivers some of the most stunning underground biomes. When you spawn in this world, head to the nearest cove, where the beautiful foliage-covered underground cave system will greet you with hanging vegetation and waterfalls.
12 - Survival Island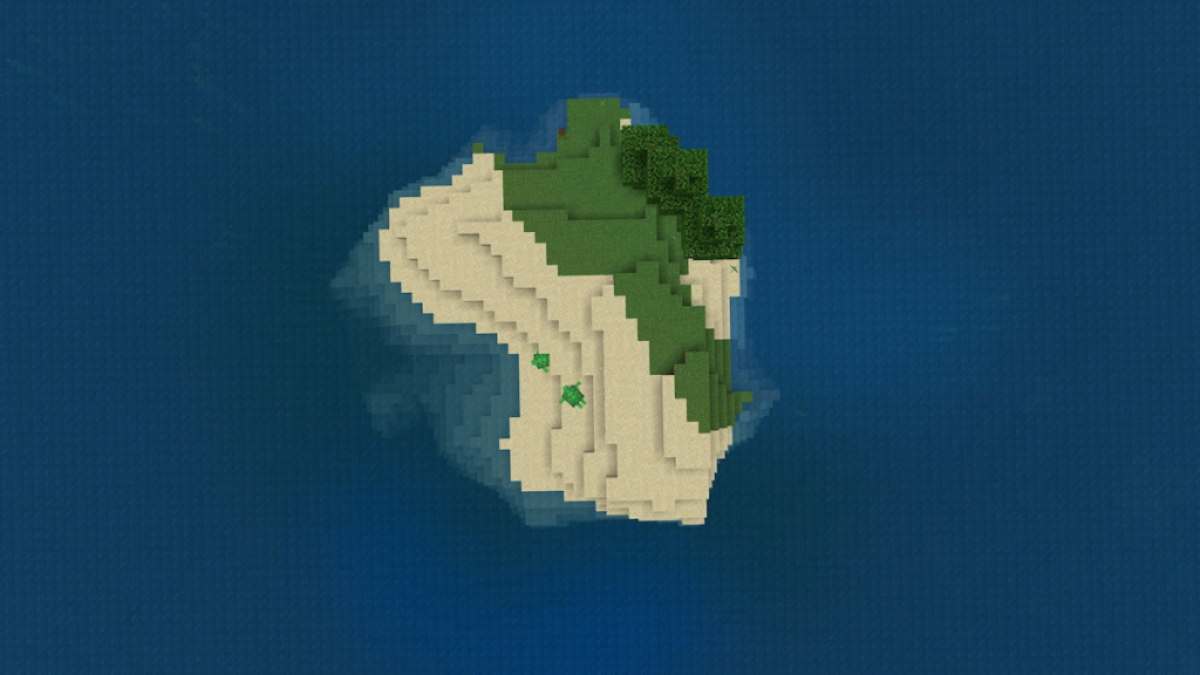 Map seed: 6234585794280948439
Version: Bedrock
Fans of survival challenges among you will be pleased with this seed, as it spawns you on a beautiful little island in the middle of the ocean with only two trees and some turtles to keep you company. Put your survival skills to the test and try this seed out. You will not be disappointed.
11 - Mansion in an open cave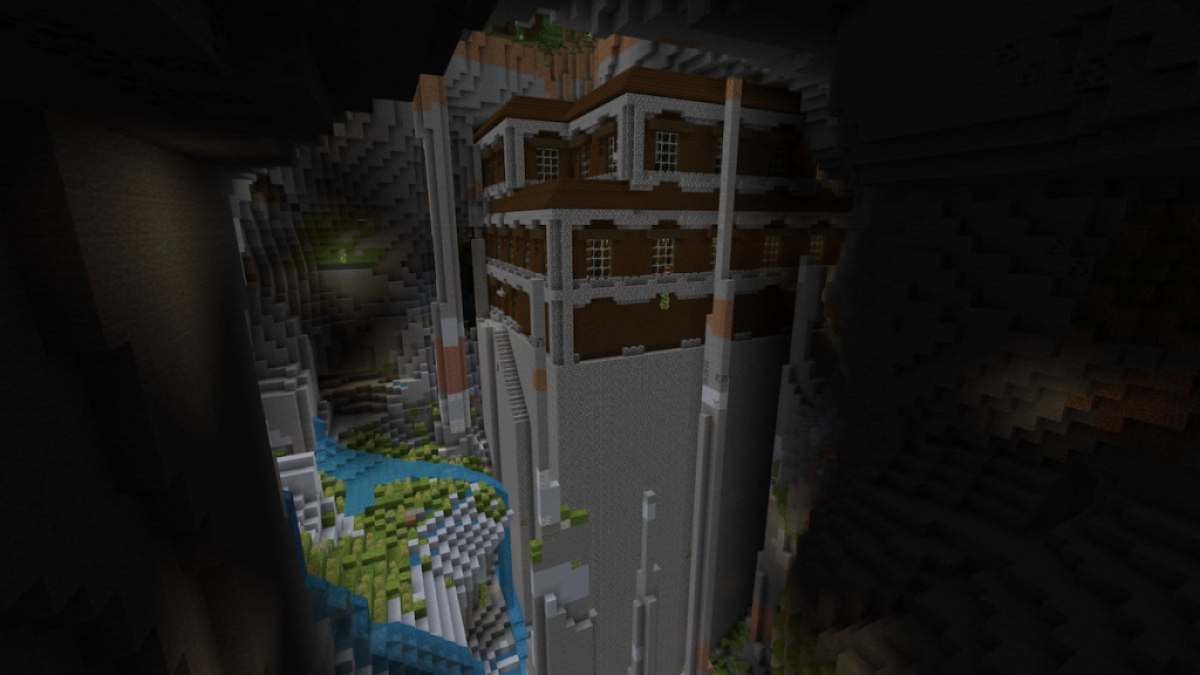 Map seed: -2238350781986886782
Version: Bedrock
Coordinates: 250, 60, -750
This seed has a truly rare map feature. If you go to the coordinates we've provided above, you will find a natural Mansion spawned inside a giant open cave! It's a very rare and wonderful sight to behold. The mansion is perfect for those looking for an RPG or a scenario-driven adventure!
10 - The Highest Village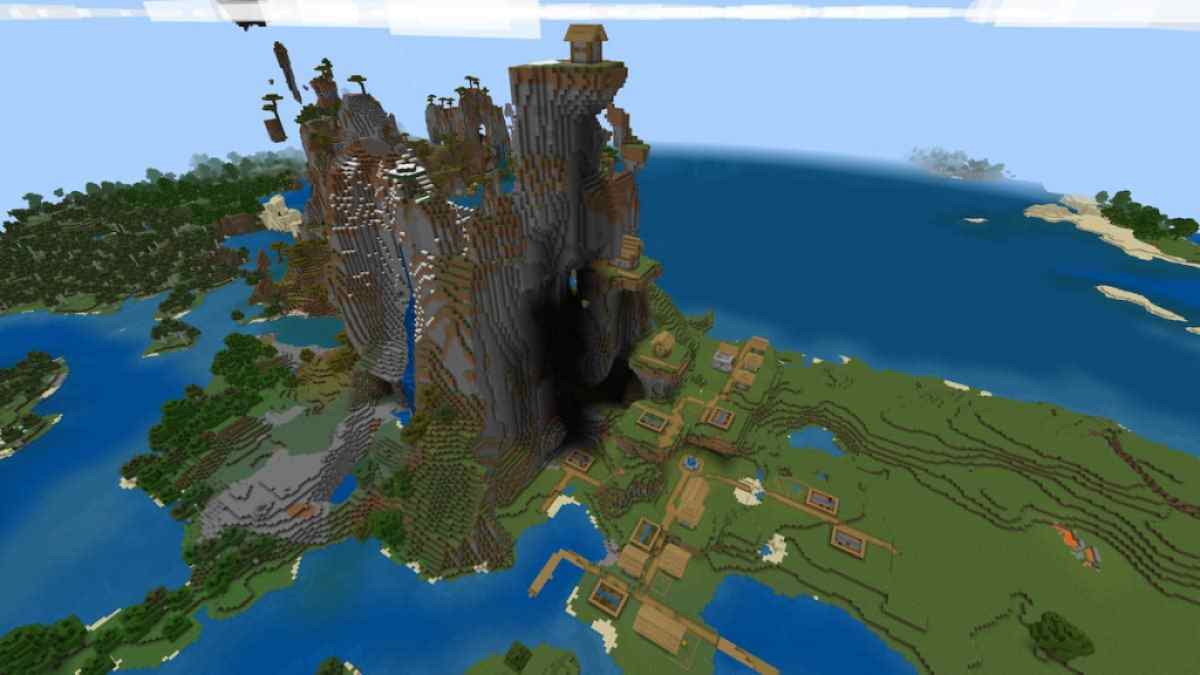 Map seed: -5249478346376846453
Version: Bedrock
Coordinates: 2860, 220, 600
You will have to travel a lot from your starting point, but the prize will be worth it, as this seed spawns the highest dungeon we've ever seen. It is embedded into the mountain fused with a village. There's a single house and a villager on the very peak; the rest lie below.
9 - Best Coastal Landscape
Map seed: -1820780390
Version: Bedrock
This seed will set you right on one of the best coastal areas we've ever seen in Minecraft. Cliffs stretch as far as you can see with waterfalls and lavafalls, mountains soaring right up into the clouds, and beautiful valleys with all kinds of forests that grace this unique seed.
8 - Drop into an ancient city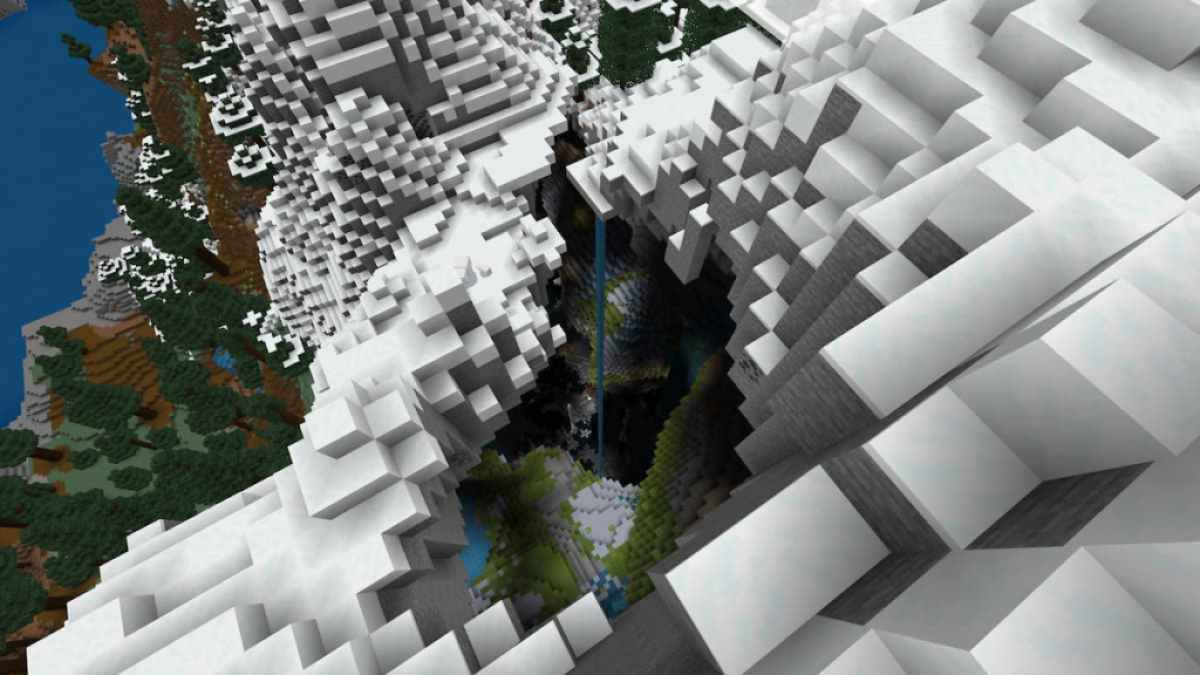 Map seed: 609791447
Version: Bedrock
Coordinates: -5, 200, -200
Once you spawn on this seed, climb the snow-capped mountain range before you. Once you reach the coordinates we provided above, you will see a cave with a huge drop that will lead you from the top of the mountain straight down into an ancient underground city.
7 - Beautiful Ancient City Cave
Map seed: 1289867156
Version: Bedrock
Coordinates: 800, -30, -250
Above ground, this seed offers a beautiful mix of warm biomes for those seeking warmer climates. But underground, if you go to the coordinates we provided, you will see the most stunning ancient city cave. The city sits directly on a shore near the lava lake. Above it, the cave walls and ceiling are covered with dripping vegetation, creating a beautiful contrast.
6 - Diverse biomes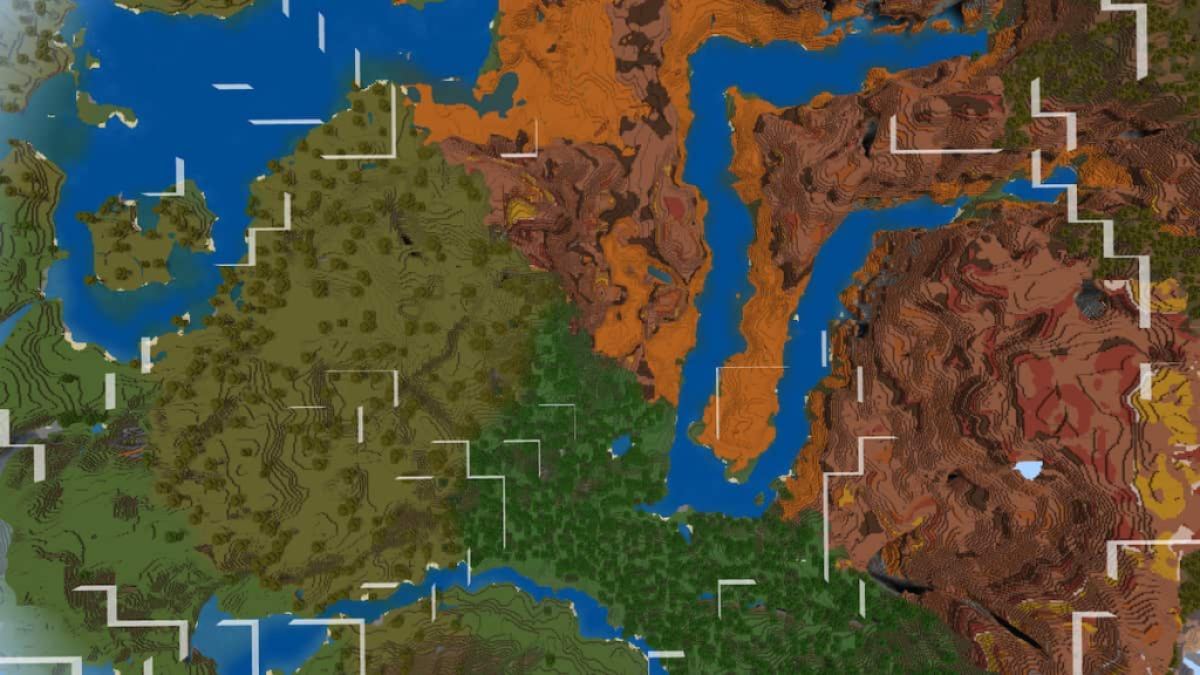 Map seed: 715691134580415
Version: Bedrock
Coordinates: -550, 100, -790
If you're looking for a map with biome diversity, this map has it all. This map has plenty of snowy mountains, icy lakes, and badlands. It even has a forest mansion in the middle, on the coordinates we provided above. If you make a base in it, you will have access to all the warmer biomes right from there.
5 - Infinite mine shaft
Map seed: 867677604900324654
Version: Bedrock
This unique seed will spawn you in an infinite mine shaft. In the spawn area, you will have a giant cave entrance above you, a beautiful waterfall, and a lavafall close by. The mine shaft network starts in two directions, heading across the map and offering plenty of opportunities for adventure and exploration.
4 - Village Behind Jagged Peaks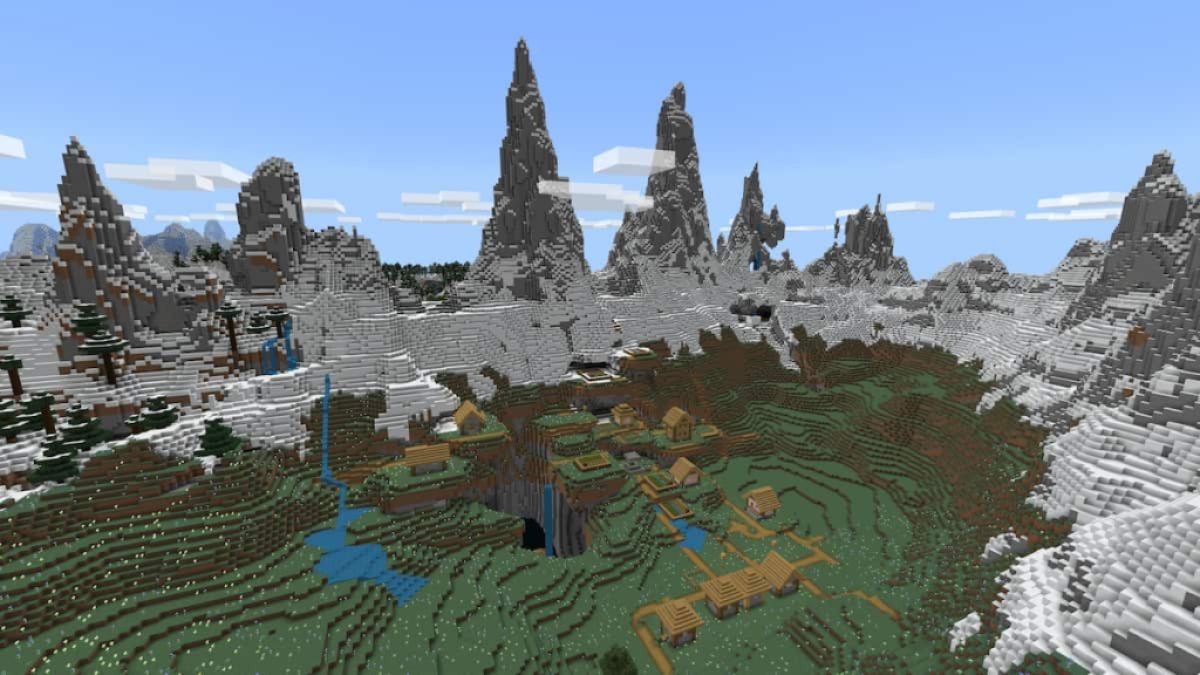 Map seed: 5730441310782089509
Version: Bedrock
Coordinates: -300, 100, 70
This beautiful seed will spawn you in front of a gorgeous mountainside. Go towards the snow-covered, jagged mountain peaks, and you will soon find a large gaping mouth of a cave going deep into the mountain. If you proceed left, the cave will lead you straight through the mountain chain to a hidden mountain village on the other side.
3 - Highest Mansion
Map seed: 633155865
Version: Bedrock
Coordinates: 280, 50, 650
This unique seed features the highest-positioned forest mansion we have ever found, occurring naturally in Minecraft. You can find it if you follow the coordinates we provided above. This spectacular work of nature will serve you as a fortified outpost, a base of operations, and a lookout tower. Nearby, there's also a beautiful lush cave to serve your exploring needs. This seed truly has it all.
2 - A Five-Structure Collision Village
Map seed: 3546842701776989958
Version: Bedrock
This rare seed will spawn you right next to a village with a fusion of five different structures in it:
Shipwreck
Outpost
Ruined Portal
Desert Temple
Village
The village lies on a sandy beach; as soon as you enter the water, you will see some ocean ruins sticking above the water level. Such a cluster of naturally occurring structures is very rare in Minecraft, and this seed is a true jewel.
1 - Highest Outpost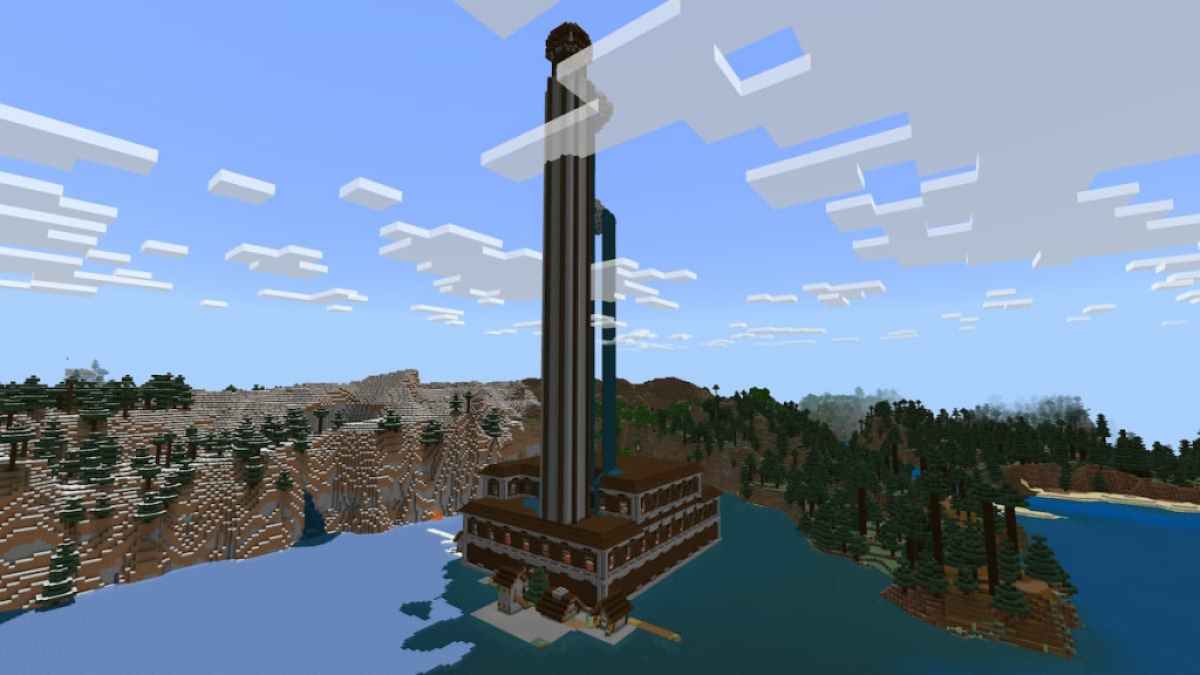 Map seed: -7360672562458547898
Version: Bedrock
Coordinates: -780, 60, 200
This seed is perhaps the most incredible and broken in our entire list. If you go to the coordinates we provided above, you will be greeted by the highest outpost we have ever discovered in Minecraft. The outpost rises straight from a woodland mansion and a village. Waterfalls only add to the surrealism of the entire scene. But this isn't all. You will discover an ocean monument and a stronghold as you go underwater.
Looking for more Minecraft guides? Check out our Top 10 Minecraft Farms to Build in 1.19 (March 2023) and Best Minecraft Realms Maps here on Pro Game Guides!