With a new week, we welcome new challenges and quests. We're now in Week 11 of Fortnite Chapter 2 Season 6. In this guide, we will provide the guides for those tough-to-complete quests and some general tips to make the simpler quests even easier.
Cheat Sheet Map
The map below provides the locations of all the spawns for this week's quests with specific locations. Follow the instructions below the map if you need more detail.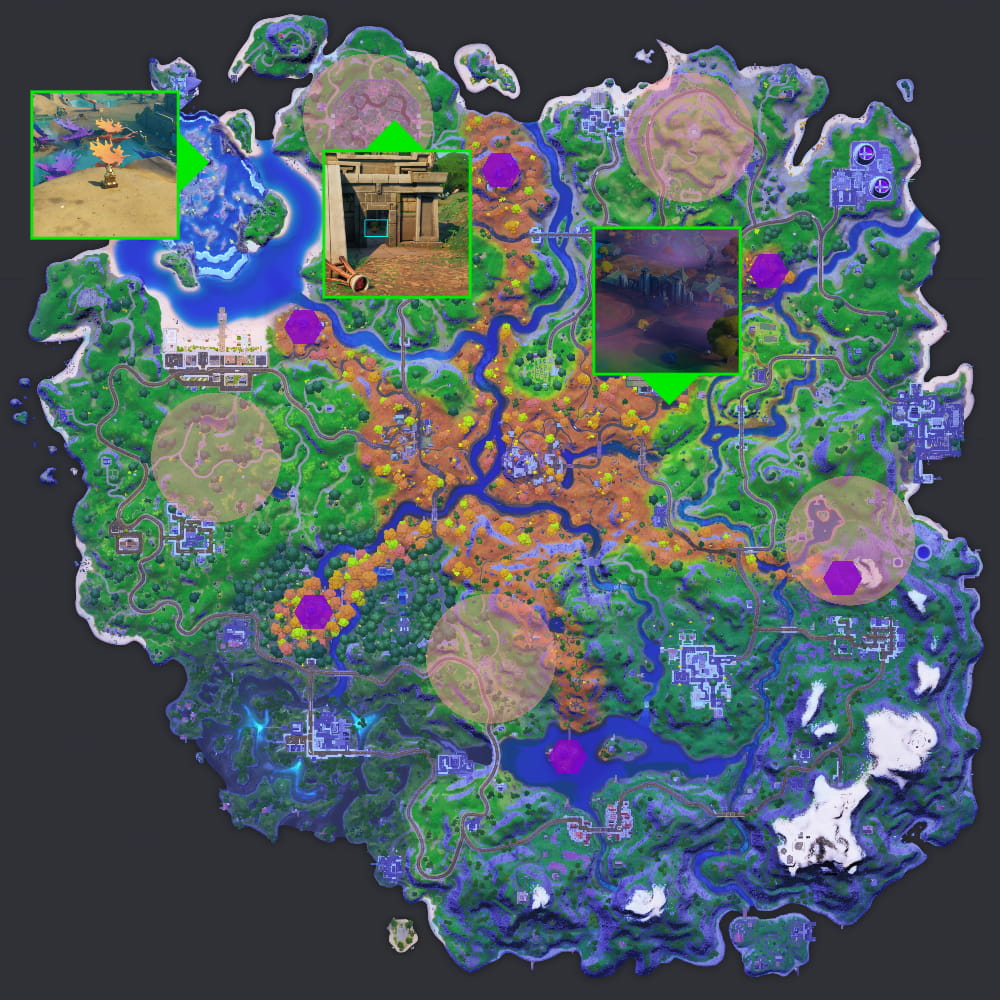 Coral Castle Artifact: At on top of the plateau in the northeastern section of Coral Castle
Stealthy Stronghold Artifact: In the ruins barely east of the center of the area.
Purple Hexagons: Locations of the Spire Guardians to defeat.
Pink Circles: Areas of the map where predators (wolves and raptors) spawn most frequently.
Related: Fortnite Leaked Skins & Cosmetics List - Pro Game Guides
General Tips and Tricks
Visit the Zero Point

This one is self-explanatory. We suspect that visiting the Zero Point will reveal (limited) information about the next season. It is in the dead center of the map at the top of The Spire.

Craft pistols
Defeat a Spire Guardian
Hunt predators

The pink circles in the map above outline where all the high spawn rates are for predators such as Wolves and Raptors. If you need more help, use our guide: Where to Find Raptors in Fortnite.

Tame a boar at Colossal Crops

The green square at colossal crops shows you where the Boar pen is. It's just outside the area's southern wall.

Chicken Glide at Colossal Crops

You can bring a chicken into Colossal Crops to complete this quest. You don't have to find the chicken there.

Raid an artifact from Stealthy Stronghold and from Coral Castle
Legendary: Spend gold bars [0/150/300/450/600/750]

Thankfully, they made the final Legendary quest very easy. To complete it, simply interact with any NPC and spend your gold bars! The fastest way to complete this quest is to buy Mythic Weapons. For additional help, use our guide on All NPC Locations in Fortnite Chapter 2 Season 6.
As we said, Fortnite drops a new set of challenges every week and you have potential to earn 277,000 XP if you complete all of them! Be sure to check our Complete Guide every week for the new challenges and guides to max out your XP.
We cover the latest season of Fortnite in our Complete Guide to Fortnite Chapter 2 Season 6! Be sure to check out the latest skins and all our guides to help you level up to 100.