Not too long ago, people were questioning whether or not curved gaming monitors, let alone curved monitors, would actually stick in the market. Just a few years later, they've just about become a staple within gaming.
Curved monitors bring a different, more direct sense of immersion compared to regular gaming monitors, allowing you to be drawn into more of the screen compared to a standard flat-screen monitor itself. Most curved monitors, like many in general, have different features and functions and vary in performance. These are some of the best out in the market now that you can pick up at your local store.
Related: Best NVIDIA Graphics Cards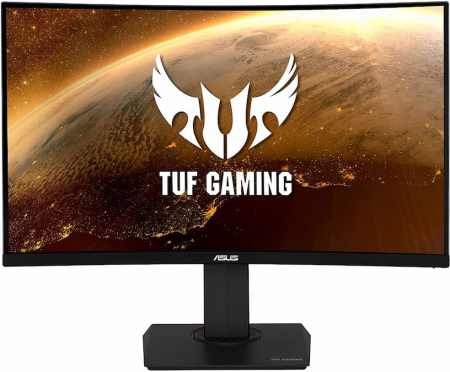 The Asus TUF Gaming VG32VQR is one of the top gaming monitors in the market now. The better part? It comes in at just under $500 with a bevvy of quality features and specs that let it compete with some of the best out there today.
The VG32VQR measures in at about 31.5 inches, featuring a 1440p resolution and 165Hz refresh rate with a 1 millisecond response time. Despite being considered as a "budget" monitor, it has an absolutely sharp picture boosted with HDR10, giving it a leg up amongst many other HDR monitors. Although this is a budget beast of a monitor, it does come with its share of caveats, resulting in the friendly price point. There's only three video inputs: two HDMI 2.0 ports and one DisplayPort 1.2 for high-speed PC gaming. The built-in speakers get the job done at best, but they're nothing special overall. Despite its flaws, or shortcomings, at under $500, it'll be harder to find another monitor as feature rich as this TUF monitor.
Long story short, if you have the money to drop on a gaming monitor, get the best one for the next few years to come. That is what the ASUS ROG Swift PG35VQ is: simply put, the very best. Again, only if you have around $2,000 to spend on it.
The ROG Swift is an ultrawide, 3440 x 1440 monitor with a 21:9 aspect ratio measuring in at around 35 inches. It features a 200Hz refresh rate perfect for just about every title out there now, especially first-person shooters. Its high-quality display is also perfect for content-creators as well, despite limiting its quality to "just" 2K resolution. While it seems as if this monitor is unstoppable, it does have its limits. Besides its 2K resolution ceiling, it only has two video ports: an HDMI 2.0 port and a DisplayPort 1.4b slot, along with a pair of USB 3.0 ports and a single USB Type-B downstream port to connect the monitor to the PC as well. Its outrageous price tag may scare some people away considering the fact that there are other ultra-wide monitors that come in at a fraction of the price. But if you want the best of the best, you've got to pay up.
Related: Best Gaming Chairs under $100
The MSI Optix MPG341CQR could be one of the fastest curved monitors out there right now. At times, it tries to do too much, especially with its unnecessary built-in webcam that only works for facial recognition, but MSI's line of gaming monitors are one of the best out there that keep innovating and finding ways to get better.
This 34-inch Optix model features a 3440 x 1440-pixel native resolution with a 144Hz refresh rate. Image-wise, the Optix is bright, sharp, big and everything today's gamer really could want in a bigger-sized gaming monitor. The Optix features a mouse bungee underneath the monitor, a camera cradle for the webcam on top, and a rainbow LED strip on the bottom that's also powered by Steelseries' Gamesense software that can react to whatever is happening in-game.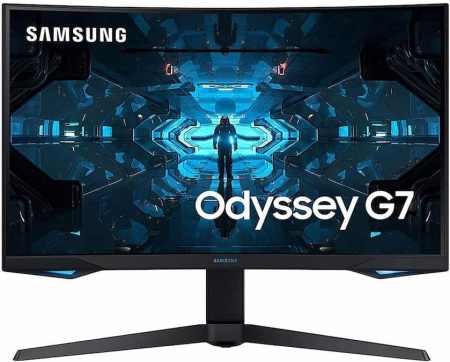 Considering that it's one of the most mainstream brands out there right now, it's no surprise that a Samsung monitor cracks a top curved gaming monitors list, or a gaming monitors list in general. But the Samsung Odyssey G7 is one of the best, most accessible curved gaming monitors in the market.
The Odyssey G7 (aka the LC32G75TQSNXZA) is a 1440p monitor that comes in either 27 or 32-inch sizes. It features a 240Hz refresh rate and has a very fast response time of 60Hz, making it more than ideal for the next-gen consoles. The weird part? The 27-inch model is actually the better of the two versions available. While the 32-inch may seem better and is more immersive, it has a lower pixel density which leads to images that are not as sharp compared to the 27-inch model. All in all, for those getting a next-gen console soon, this is a very solid pickup.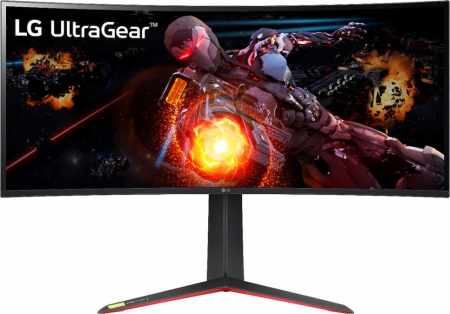 Another great, and significantly cheaper, ultrawide monitor is the LG 34P950G-B (aka the UltraGear 34). It comes in at about 75 percent of the price of the previously mentioned Asus ROG Swift and despite having a response time that's a hair slower than the ROG Swift, the Ultragear 34 is still as impressive as an ultrawide, curved gaming monitor.
The Ultrawide 34 features an insanely low response time with low input lag and native Nvidia G-Sync with support and works with AMD FreeSync as well, although not natively. Its ultrawide screen creates one of the most immersive gaming experiences out there, however, that is where this monitor starts to show its flaws. Unlike the ROG Swift, the UltraGear 34's contrast is not as strong as it should be for the price point. It does feature HDR support which helps its peak brightness in-game, but doesn't support HDR10, which feels like a missed opportunity. Yet, if you don't have the $2,000 to drop on the ROG Swift, this is a great alternative.
For more Hardware Guides, check out Best Gaming Hardware Holiday Gifts on Pro Game Guides!
This article includes affiliate links, which may provide small compensation to Pro Game Guides.