Mousepads can be a pain point for many people, especially ones that either don't seem to stay in place or just aren't large enough for the amount of mousing surface they need. Thankfully large, full-desk sized mouse pads, or desk mats as they're often called, have become commonplace. Obviously, exactly what size your desk is will determine whether or not the mouse pads and desk mats mentioned here cover the entire surface, but everything mentioned here will provide ample space for even the largest mice and keyboards.
3XL Mouse Pad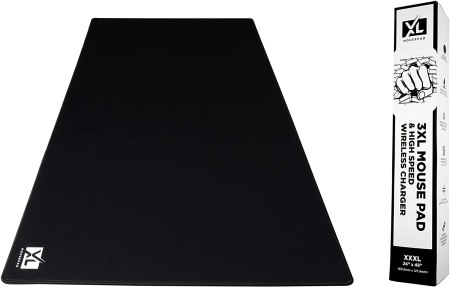 The 3XL mouse pad from the aptly named XL Mouse Pad Store is a relatively basic affair, but it's also functional and large enough to cover a wide array of desk tops. At 48 inches wide and 24 inches deep, it's going to completely cover most standard PC gaming desks out there, and it features stitched edges to avoid fraying after extensive use or during a wash.
The XL Mouse Pad store also guarantees that their mouse pads don't have the chemical rubber smell that many newer neoprene mats ship with. While airing neoprene out for a few days usually removes this smell, it's a nice touch for those who don't tolerate it well. They also offer a 4XL model that bumps the width up to 60 inches for those of you with extra-large desks.
Related: Best Gaming Mouse for Laptops
BUBM Full Lip Mouse Pad
This mouse pad from BUBM has a PU leather surface. This means that in addition to not having that distinct neoprene smell, it will also be largely water-resistant and offer a much easier surface to clean and care for. It features a lip design that wraps around the front edge of your desk, which is a huge wrist saver for those who have a habit of resting your wrists on your desk edges. It also helps keep the mat in place and adds a bit of professional style. It likely won't cover your whole desk at 29 inches wide and 18 inches deep unless you have a particularly small one, but it will cover a pretty sizeable portion.
PUPUFU Leather Desk Mat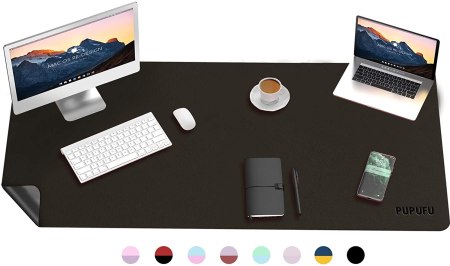 This desk mat from PUPUFU delivers the best of both worlds, with a standard cloth top on one side and a PU leather top on the reverse. This means you can easily switch between the more professional-looking PU leather and more comfortable cloth top without having two different desk mats. Sandwiched between these two layers is a neoprene mat that provides cushion and weight to keep it from sliding around. At 48 inches wide, it's big enough to cover the majority of desks, and PUPUFU offers two different depths at that size. They also offer several different colorways to match your desk aesthetic.
Cacoy L-Shaped Desk Pad
This mat from Cacoy is a full-length double-sided desk mat for your L-shaped desk. One side of the mat sports PU leather for easy cleaning, while the other side has standard cloth topping. This mat is also on the thin side for those who prefer a more supportive desk mat suited for writing. Cacoy has outfitted it with stitched edges to keep the tops from separating, and it offers a few different color options.
Related: Best Bluetooth Mouse for Gaming
Auhosahsil XXL Large Mouse Pad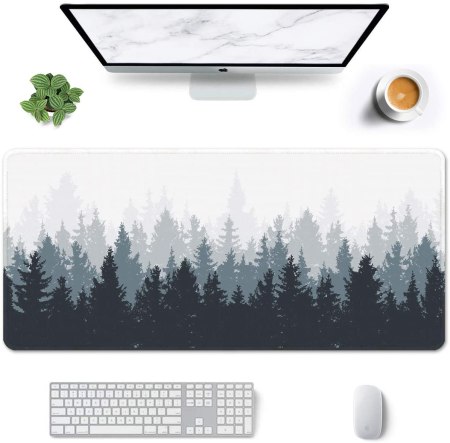 There is no shortage of pattern-printed desk mats out there. Which one you choose will likely depend on the style you're after, but Auhoahsil offers a wide variety of great-looking neoprene mats in over two dozen different patterns. The 35-inch width might not cover your entire desk, but it should cover a sizeable portion. The bottom is standard non-slip neoprene, and it clocks in at under $20, which is a price that's hard to beat for this much desk mat.
When choosing a desk mat, it's important to keep things like pattern and surface feel in mind. Darker mats will show dirt more easily, and standard neoprene will collect some amount of sweat and oils from your hand. So while neoprene feels nice, it will require additional cleaning compared to a leather or plastic topped mat. If you're after a comfortable experience and don't mind the cleaning, neoprene with a cloth top is the way to go.
For more hardware guides, check out Best Vertical Computer Mouse and Best M1 Pro and M1 Max Mouse on Pro Game Guides.