Convenience is king, and that means a lot of people default to WiFi without giving things a second thought. But maybe you're after the lowest possible latency for Steam in-home streaming, streaming on Twitch, or booting up the latest esports title. If that's the case then you're going to be delving into the wide world of Ethernet cables, which can be as confusing as it is diverse. The good news is that, for the most part, any Ethernet cable is going to give you better performance than WiFi, and more importantly it will provide a more stable connection. But you're going to need one that fits your particular setup, and we're happy to oblige. We have options listed below for all kinds of gaming setups. Keep in mind that in general the higher the number (e.g. Cat 5, Cat 6, Cat 7, Cat 8) the higher your maximum speed, but make sure you have a router that can push that much data.
Best Ethernet cable for outdoor use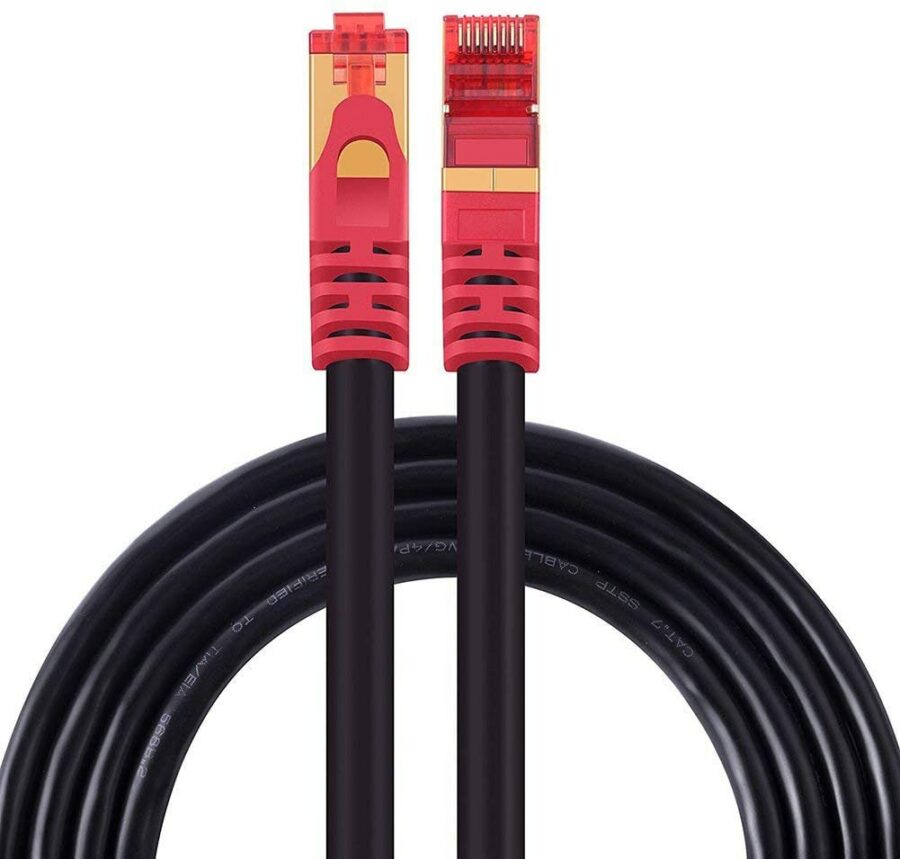 The ShineKee Cat 7 outdoor Ethernet cable might not be the fastest spec on the market (that honor goes to Cat 8 cables), but if you're needing to run Ethernet between buildings or perhaps out to your garage gaming den then you're going to need something that is robust and ready to brave the elements.
With a 600MHz bandwidth and 10Gbps maximum speed this cable will keep you gaming with the best of them. It uses 8 wire Stranded Copper with shielding and comes with a gold plated RJ46 connector to ensure that your cable won't wear out anytime soon. The RJ45 connectors are equipped with a protective clip to ensure that they stay in place and a clip shield to prevent the tab from bending upward means you'll be safe from snapping the clip off when unplugging it. Lastly, the cable comes in 26AWG which means it's thick enough to stand up to some serious abuse.
Best for discreet setups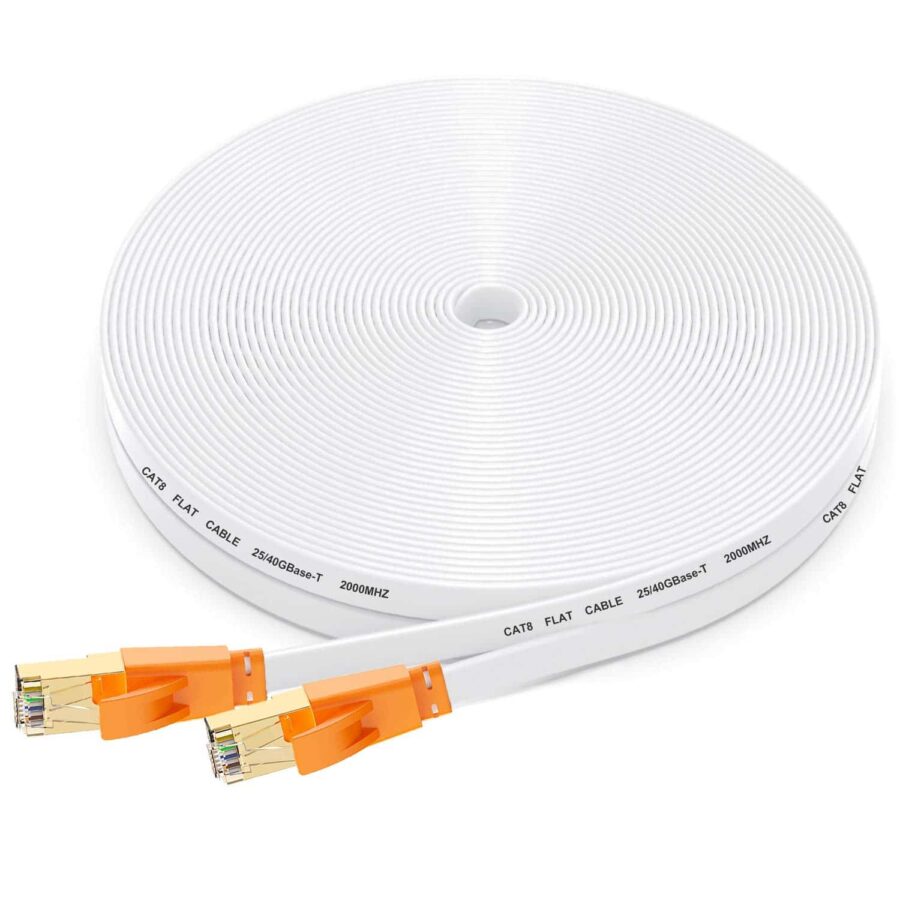 Sometimes discretion is key when dragging cables across your house. Maybe the other people you live with don't want to be tripping over wires every time you want to boot up Rocket League. What's a gamer to do? Your best best is going to be the Smolink Cat 8 flat Ethernet cable, which can easily be fed under furniture and rugs to keep your house looking clean and free from wire clutter.
The RJ45 connector on each end is bright orange to make fishing it out of whatever you're running it under easier, and it features a convenient clip protector. With a 2000MHz bandwidth and 40Gbps bandwidth that this Cat 8 cable provides it should also be more than enough to keep your connection consistent even with high end routers.
Related: How to Improve Wi-Fi on Your PS5
Best for gaming across the house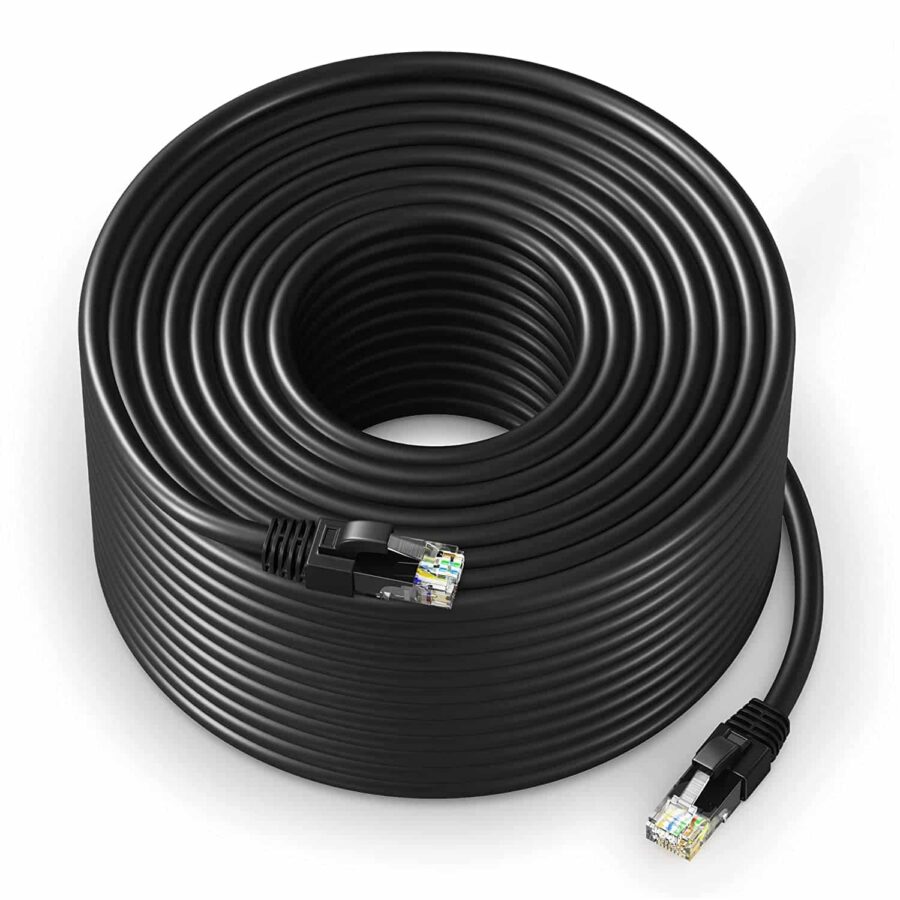 Maybe you're all the way on the other end of your house from your router, stranded in a purgatory of PoE adapters and inconsistent WiFi connections. Never fear, the Maximm 300 ft Cat 6 Ethernet cable is here for you, no matter how many rooms away from your router your computer happens to be. It comes in a variety of colors so that you can easily match it to the walls you'll inevitably be running it along, and the 4 pair 24AWG wiring should stand up to moderate wear and tear.
The Cat 6 specification lists 328 feet as its maximum length and this cable pushes right up against that, with 550MHz bandwidth and up to 1Gb speeds. So while it doesn't offer the highest possible speed ceiling, it does offer stable, proven performance that should be more than enough for even the fastest internet connections.
Best for connecting lots of devices
Look, we get it. You have a lot of consoles under your TV, but you still want to have all of them hooked up via the best connection possible. There's nothing worse than dropping a frame or two due to inconsistent WiFi and having to eat a loss because of it. These Amazon Basics Cat 6 cables might not be the highest end Cat 8 cables on the market, but you get a lot of them for a good price.
Each cable is a different color, which makes remembering which system is connected via which cable nice and easy, and they come in sizes ranging from three to 15 feet. Because sometimes you just need a bunch of cables all at once without breaking the bank.
Best for a stylish desk presence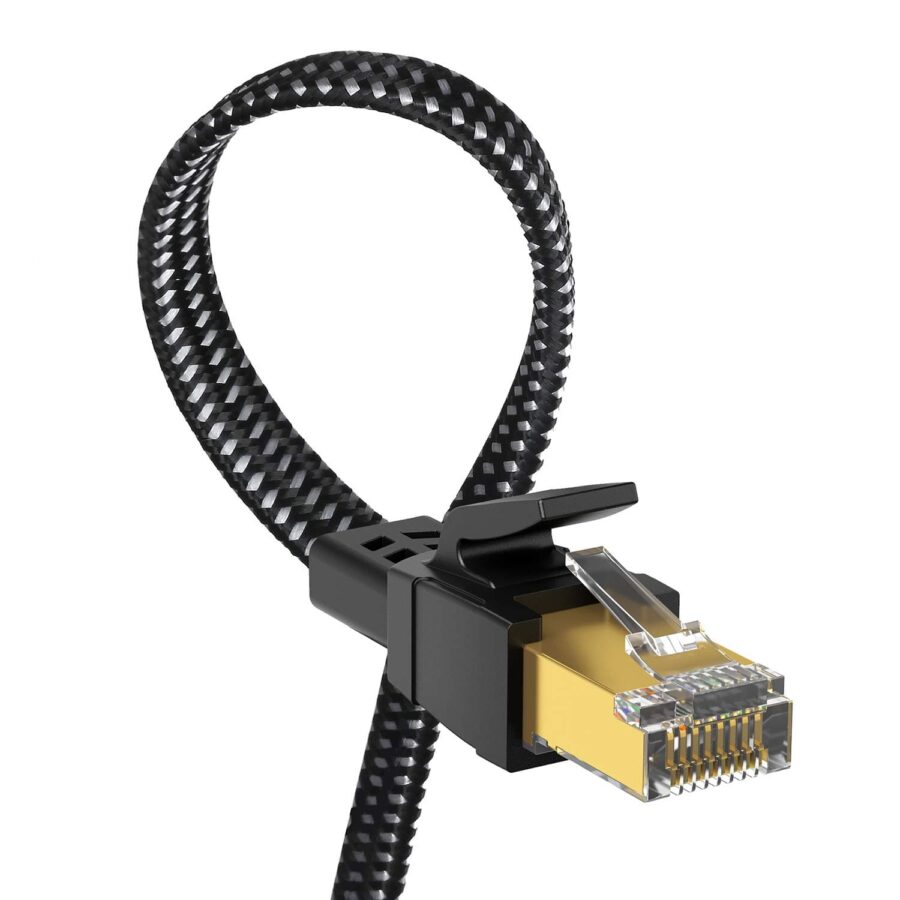 A cable is a cable, right? Well maybe not when you have to stare at it all day long because it's run across the side of your desk. Sometimes we don't have much choice in where we place routers or computers and for those of you who like your setup to look nice it pays to pick up nice looking cables.
The Orbram nylon braided Cat 8 Ethernet cable will not only get you connected via a snappy Cat 8 spec, but it will look good doing it. Clip protector, flat cable, braided nylon cover, gold-plated RJ45 connector, this one has it all and looks good doing it.
Best for the accident prone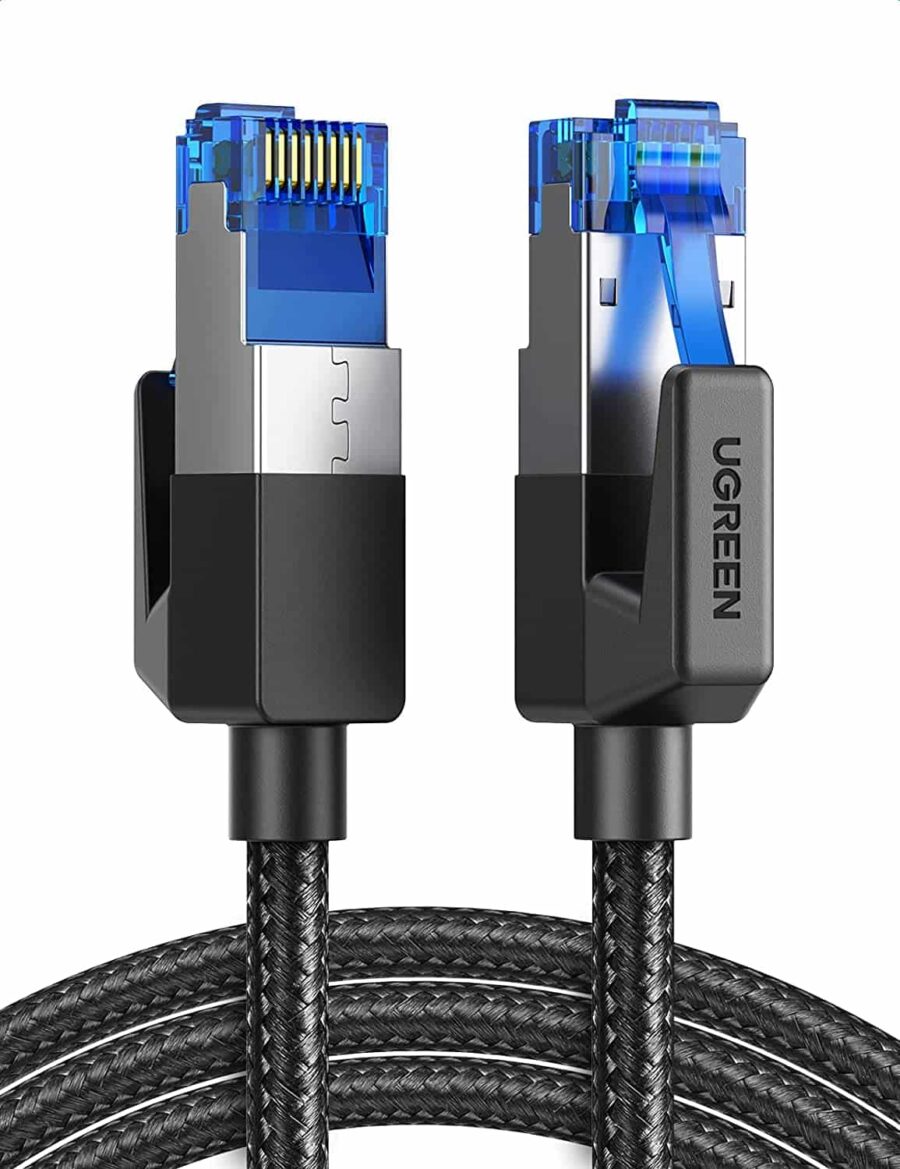 If you've worked with Ethernet cables for any amount of time then you've inevitably run into the dreaded broken cable clip. Without the clip your cable will still work fine, but the slightest bump will knock it out of place and drop your connection.
Thankfully URGREEN's cable is not only fast, covered in braided nylon, and listed as safe for outdoor use: it's also equipped with a large, thick clip protector. If you're the type of person that is extra rough on cables or moves them around a lot then you'll want to check this one out.
Related: Is the Steam Deck compatible with Mouse and Keyboard?
Best for the budget conscious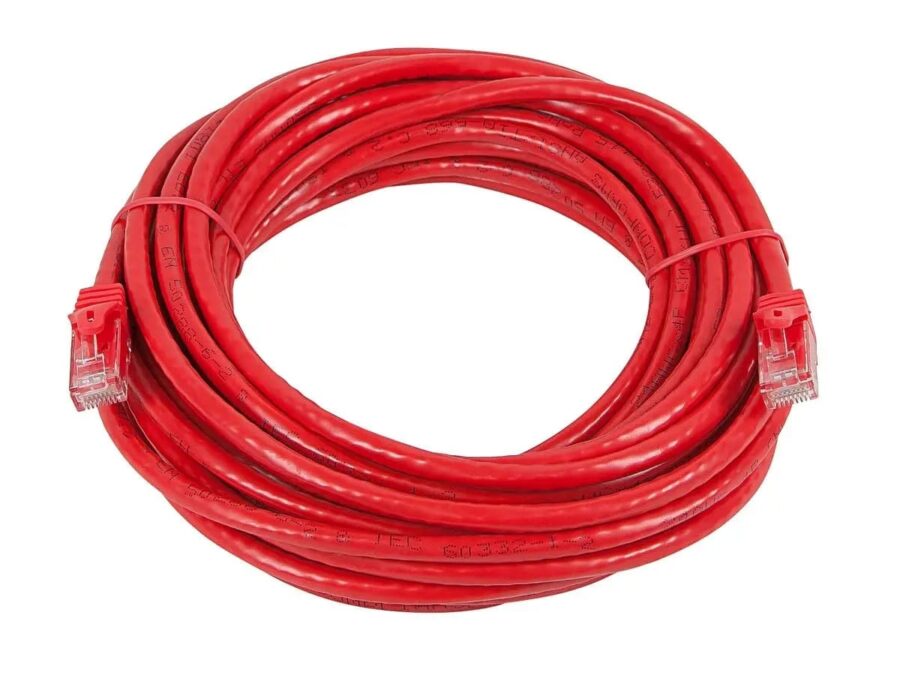 Look, we get it. To a lot of us a cable is a cable. Maybe you don't have a high end router to pump out Cat 8 networking speeds to your gaming rig. Sometimes you just need to get online and spend as little money as possible in the process. That's where the Monoprice Cat 6 Flexboot comes in, with a variety of colors and sizes along with 24AWG wiring.
Monoprice has been making high quality cables for a long time, and if you're just after a basic no-frills Ethernet cable then you can't go wrong with this one.
Whether you're trying to squeeze out the fastest possible network transfer speeds or just connecting an old laptop up to LAN some classic PC games, the cable use you matters. Networks are only as fast as their slowest link, and an old, slow cable can quickly bog down that shiny new router you just installed. It's not uncommon to find people using old cables they happened to have lying around, when there are so many better, newer, and faster options available. Hopefully we've helped you narrow down exactly which cable you need to work with your particular setup.
For more gaming hardware info, check out Steam Deck Screen Size, Dimensions, and Specs.
This article includes affiliate links, which may provide small compensation to Pro Game Guides.