When it comes to taking care of your product you have a few options. For headphones, the best option is to use a headphone stand to keep your headset in prime condition and out of the way until you need it. You may think a headphone stand is self-explanatory, but there are actually a lot of options out there so it can be easy to get overwhelmed. While a simple stand can hold the headphones, there are other things to consider. The weight of the headphones, the height of the stand, whether it keeps your wire neat and untangled as well as if it is compatible with other devices are all things to think about when making a choice. Below you can find some of the best options out there for headphone stands.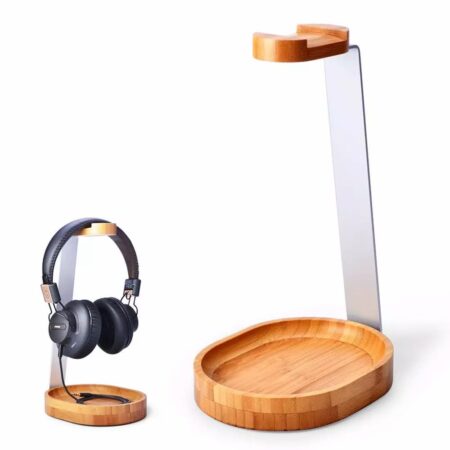 When it comes to looking good it is hard to beat a wood texture and the Avantree Universal Wooden & Aluminum Headphone Stand With Cable Holder mixes wood with aluminum for a stylish modern look. The combination of solid aluminum alloy and wood provides a stable and durable stand for your headphones. It has a built-in tray to either hold the headphone wire if it has one or simply clear some space on your desk. The tray also prevents anti-slip as you pull your headphones off or put them on the stand. The Avantree Universal Wooden & Aluminum Headphone Stand with Cable Holder is the perfect size which makes it compatible with most major brands of headphones. At $29.99 this headphone is incredibly budget-friendly without sacrificing looks and excels at being a simple stand.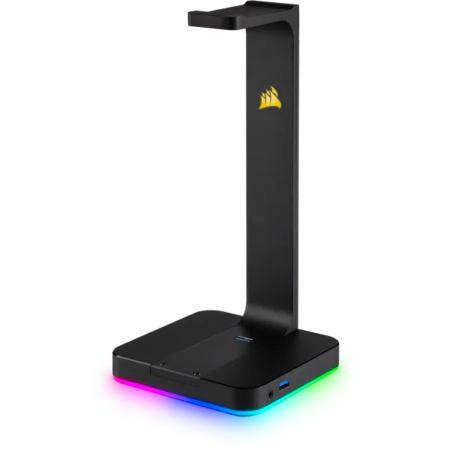 The CORSAIR ST100 RGB Premium is built from durable aluminum and capitalizes on CORSAIR's sleek designs. This stand is built with durable aluminum for durable and a rubberized base for stability. One of the primary draws of this stand is the customizable nine-zone RGB lighting that allows it to match your setup. There are dozens of presets and patterns and you can create your own with CORSAIR Utility Engine. The CORSAIR ST100 RGB Premium can sync with other CORSAIR accessories to create an immersive RGB look. The other major draw is the 3.5mm input enables full range stereo or 7.1 surround sound for multi-channel audio. It also features two USB connection ports that offer improved charging power for headphones, phones, or other devices. This headset stand is available for $69.99 and regularly goes on sale. There is also a less expensive model that does not come with the RGB.
Related: 2021's Best Gaming Headsets Under $60| Best Budget Gaming Headphones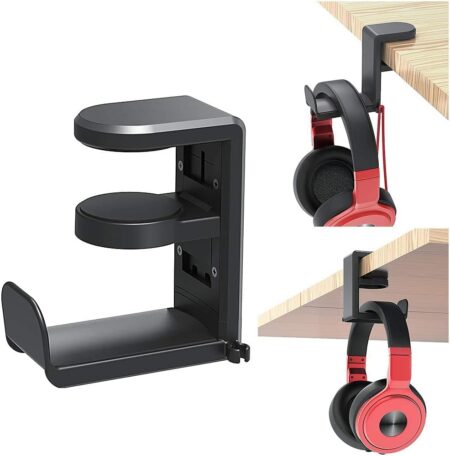 For sheer utility, it doesn't get much better than the EURPMASK Under Desk PC Gaming Headphone Hook. It's technically not a headphone stand but with its unique design, it can be hung on your desk, underneath your desk, from a shelf, and placed on the floor or your desk. To offer even more utility, the headphone arm can swing underneath your desk until you need your headphones. The headphone hook stays in place with the spring clamp that is both easy to remove and attach. It has a built-in cable loop that holds your headphone's wire in place and out of the way. The soft rubber pads on the clamps prevent it from damaging your desk and also keep it stable. It works on glass, wooden, and metal desks so no matter what your desk is made of it is safe. You can even hang other stuff on it in addition to your headphones. Because of its unique design, it can satisfy whatever placement you want. Its extremely budget-friendly as well as it only costs $14.99 and goes on sale often.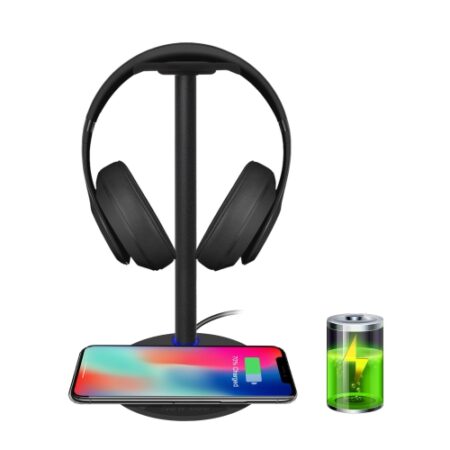 Another budget-friendly headphone stand that still offers a lot of great features is the New Bee Fast Wireless Charging Headphone Holder. The main appeal of this stand is the New Bee Fast Wireless Charging which can charge your device twice as fast as standard chargers. It can be set to three different charging modes as well. The LED lights will let you know when your device is done charging for more convenience. The non-slip rubberized base provides stability to prevent your headphones and other devices from falling. The aluminum provides durability and ensures the stand will last a long time. It supports all-size headphones making it compatible with most major brands. While its design is simple, it does the job well. The best part of the New Bee Fast Wireless Charging Headphone Holder is its incredible price of $13.99.
Related: How to Clean a Laptop Keyboard | Safely Clean Your Laptop Keyboard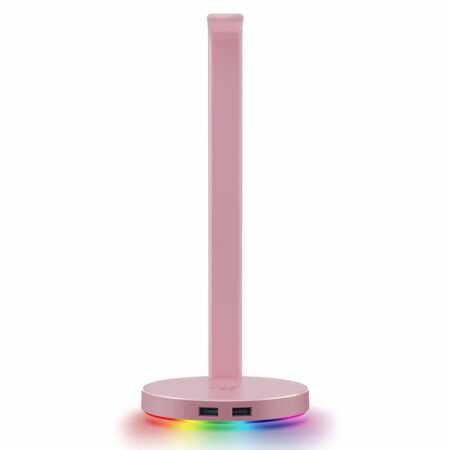 Razer is known for making fantastic products and the Razer Base Station Chroma V2 is no exception. This headphone holder uses Razer's powerful RGB lights and software that allows it to sync with other Razer products. It can also sync with other devices and even pair with your game for full immersion. It features two USB ports that allow you to charge your devices while you play. Additionally, it has a 3.5mm port that lets you connect to other devices to access the 7.1 surround sound system. The Razer Base Station Chroma V2 is taller than its predecessor and has a sleek metallic design as well as a rubberized base that keeps it stable. This headphone stand comes in Razer's iconic colors of black, white, and pink so you can match it to your look, especially if you already have Razer accessories. It is available for $69.99 but can be found on sale.
Choosing the perfect headphone stand can be hard so it's best to consider what features you want. Whether you want to be able to charge other devices, RGB lights, or just the cheapest option there are a lot of choices. For the gamer on a budget, the New Bee Fast Wireless Charging Headphone Holder and the EURPMASK Under Desk PC Gaming Headphone Hook are solid choices with their own perks. Those who prefer more advanced features should consider the CORSAIR ST100 RGB Premium and the Razer Base Station Chroma V2.
For more information on hardware, check out What is a Mouse Bungee, and What Does it Do? and 2021's 7 Most Unique PC Cases on Pro Game Guides.