Speed. Momentum. Disconnect?
We have all been there before: on an awesome killstreak, finding ourselves in the zone until suddenly, in the middle of a game, we get disconnected. The internet gives and takes away just as fast as your connection, or lack thereof allows. Maybe it is your connection speed, or maybe it is your router, which may be time for a new one, especially with the new Call of Duty, Battlefield and other big online titles always releasing. Is your router ready for the workload? Or is it time for a much-needed upgrade?
But first, for those new to the scene and not sure whether to get a router or modem, here is the difference so you can make a more informed upgrade. Both are internet boxes in their own right. A modem connects your entire home network to the internet as a whole. It is the gateway to the internet. On the other hand, a router connects all of your devices and allows them to talk to one another on the same network. It's the city hall of your home for all of your connected devices. Most cable companies will include a modem-router in your internet package, however, it is highly advised that you use a separate modem and router if possible, and while that may cost a bit more, the result is way better. For those who have gigabit internet, all you need is a router.
Related: 2021's 5 Best Webcams for Streaming
First and foremost, if you are in the market for a new gaming router, definitely make the jump to Wi-Fi 6. It is faster, smoother, and more and more of your mobile technologies around the house are starting to make the jump. Although at a premium price, the Netgear Nighthawk XR1000 fits that WI-Fi 6 performance bill too.
The XR1000 features five-gigabit ethernet ports and a USB 3.0 port for your media sharing needs. Wirelessly, it hits speeds up to 5.4Gbps on the 5 GHz channel and up to 600 Mbps on the 2.4 GHz channel. More often than not you're going to use the 5GHz channel for your own devices, but the 2.4GHz makes for a decent guest WiFi login. The DumaOS 3.0 software is a welcome addition for added control of your internet connection and allows you to prioritize your gaming and streaming content to create a better, smoother experience.
Despite its relatively high $300+ price tag, for gamers who want full control of their internet connection, the Nighthawk XR1000 could be a solid fit.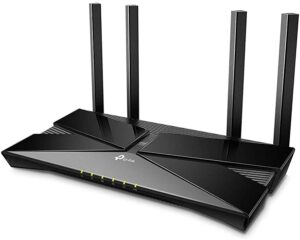 For gamers on a tighter budget, the TP-Link Archer series has produced a quality line of routers at a relatively more approachable cost than that of Netgear or even Asus, two of the biggest brand names in the scene. The Archer AX50 Dual Band Wi-Fi 6 router continues that trend of quality and performance at nearly half the price of the aforementioned Netgear Nighthawk XR1000… or any of the items on this list, for that matter.
The Archer AX50 is a Wi-Fi 6 ready router that is easy to install and provides quality performance in-game and even around the house for the rest of your connected devices. Considering its price tag comes in at half of the Nighthawk, it performs almost to the same level as its pricier rival, reaching speeds as fast as 574Mbps on the 2.4GHz band. But where it lacks in speed as far as the 5GHz signal goes, it doesn't lack in range, giving almost full-speed service throughout an entire house. It features a dual-core processor, four-gigabit ethernet ports, and a USB 3.0 port. The TP-Link Tether mobile app allows you to manage the internet connection as you like and is fairly easy to use.
The AX50 could possibly be one of the best routers in the market due to its performance for its price. The Wi-Fi 6 adaptation is big, however, its range is impressive. Considering that most gamers will have their gaming device of choice wired in (minus their phones), this almost is a no-brainer to consider.
Related: 2021's Best Budget Wireless Headphones | 5 Budget Wireless Headsets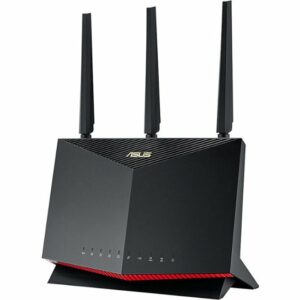 Asus's router entry into the Wi-Fi 6 scene is a quality one, at a quality price, but is extremely reliable, incredibly fast, and very much could be the last router you ever buy. Seriously.
Coming in at around $250, the RT-AX86U isn't a gaming router meant for the budget-conscious shopper, but its performance makes it worth the investment, especially in the long run. It features four gigabit LAN ports, a 2.5 GBps WAN/LAN port, a gigabit WAN port, and two USB 3.2 ports for fast media sharing or any kind. One of the LAN ports is a dedicated gaming port that gives priority to whichever device is connected to it, meaning that your gaming device won't have to worry about lag because of other devices that may be connected to it whether wired or wirelessly.
The RT-AX86U reaches speeds up to just under a gig per second on the 2.4GHz band and just under five gigs per second under the 5GHz band. It's powered by a 1.8 GHz quad-core processor with 256MB of flash memory and includes every Wi-Fi feature you could think of: MU-MIMO simultaneous data streaming, a 160MHz bandwidth channel, OFDMA (Orthogonal Frequency-Division Multiple Access), WPA3 security encryption, and direct-to-client signal beamforming. The Asus software is actually pretty easy and straightforward to use, making managing your internet connection a breeze and the router is pretty easy to install out of the box.
The TP-Link Archer AX11000 Next-Gen Tri-Band Gaming Router will run your pockets north of $350, however, for the price you are getting possibly the fastest router in the scene with all of the features. Based on design, it also looks the part of a major gaming router.
However, with the money spent on this investment of a router, you get full control of your internet connection. The AX110000 allows you to see real-time latency and resource utilization to keep your entire network, not just your gaming device, running at its full top speed. It features eight gigabit LAN ports, a 2.5Gb WAN port, a Type-A USB 3.0 port, and a Type C USB 3.0 port for lightning-speed media sharing. It's powered by a 1.8GHz quad-core processor with a gig of RAM and half a gig of flash memory. The AX11000 is a 12 stream tri-band router that reaches speeds of just past a gig on the 2.4GHz connection and up to 4.8Gbps on each of the two 5GHz bands. Yes, TWO separate 5GHz bands. It features all of the same features that the previously mentioned Asus RT-AX86U has: 4x4 MU-MIMO data streaming to power all of your connected devices, OFDMA, WPA 3 encryption, and a 160MHz bandwidth channel.
All in all, the AX11000 is easily the best router on this list, and it is also easily the most expensive. However, at the high cost, you are getting a router that you will never get disconnected from again, will see your ping drop significantly, and speeds that will help you step up your game just in time.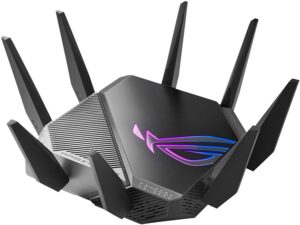 Not to be outdone, the Asus ROG Rapture GT-AXE11000 WiFi 6E is the first Wi-Fi 6E router in the market and as an early adopter of Wi-Fi 6E—which could have its share of issues in its infancy—the AXE11000 is extremely fast and extremely expensive.
Take note that Wi-Fi 6E technology is still in its infancy and that there aren't many devices that connect well with Wi-Fi 6E just yet, so only consider this router if you simply must have the newest tech at birth and if money is no object. Wi-Fi 6E introduces that 6GHz band, which features even lower latency than Wi-Fi 6 and provides a total of seven 160MHz ultra-wide channels that further enhance data transfer from size and speed. Anyway, the AXE11000 will cost you anywhere north of $600, making this easily the most expensive router on this list.
As a part of Asus's Republic of Gamers line, the AXE11000 definitely looks like a gaming router when it comes to aesthetics and size. But what matters most is its performance and, again, this is the fastest router out there, reaching speeds of over a gig per second on the 2.4GHz, 4.8Gbps on the 5GHz, and another 4.8 Gbps on the 6GHz, all adding up to about 11 gigs per second of total throughput.
For more Hardware Guides, check out 2021's 6 Best Motherboard and CPU Combos for Gaming on Pro Game Guides!