As the world transitions into this new video streaming culture led by the likes of Twitch and Zoom, a good webcam is almost a necessity as a good computer. However, you don't need to break the bank in order to have a high-quality webcam to meet all of your streaming or video conference needs. For those just starting out in the streaming space, it is actually more feasible from a financial and technical point to stream in 720p as it will have less strain on your PC and your wallet.
Most of the big-name tech companies have their own webcams, and some of them are great and have an array of features, however, they are often expensive. Then there are the "cheap" webcams that occasionally work, but offer poor picture and microphone quality, making our work-from-home lives a hassle. When it comes to the gaming space, a DSLR webcam is a premium way to capture yourself on screen with its high-quality video output, however, a webcam is more practical for the common gamer and you don't even have to break the bank.
The Logitech C310 may be the most basic webcam of all webcams out there and it does it one, lone simple job well at just $35: depict you on video.
For what it's worth, Logitech as a whole makes good tech products, great gaming products and, of course, high-quality webcams. Despite its 720p resolution that should be good for about 90 percent of people anywhere, especially those with slower internet speeds, the C310 really is as basic as it comes. Just plug it into the PC via the USB connection and it should work right away. The built-in mic is good, but don't expect any big-time features like noise cancellation and such. For those looking to pair this with an Xbox console, don't. It won't work with the Xbox consoles for those who want to have a cheap main camera when streaming straight from the Xbox.
If you have a few more bucks to spend on a webcam, you can grab the much upgraded Logitech C922 Pro Stream on Amazon for about $75 (down from its retail price of $100). This webcam isn't just one of the top budget webcams out in the market now, it is probably one of the best webcams out in general, following a line of C920 type products that each have their own separate ranges and features.
The C922 features 1080p at 30fps recording and streams 720p at 60fps, creating smooth video even at a lower resolution, which is perfect for those with slower internet connections. It also includes background removal and automatic low-light correction—perfect for aspiring streamers and YouTubers who don't want their room in the background of their streams. Even more, the C922 also includes its own mini tripod in case you don't want to mount it on the top of your screen.
Related: 2021's 5 Best Budget Microphones for Streaming | Budget Streaming Mics
The Razer Kiyo might just be that one all-in-one webcam you didn't know you were looking for until you got it, but you're happy you found it. Another budget-ish webcam on the higher side of the pricing scale, the Razer Kiyo runs at retail for about $100, although it can be found on sale for nearly half of the price.
Video quality aside, the Razer Kiyo's biggest feature is its built-in ring light. The ring light does a great job of illuminating your face for streams and video conferences, eliminating the need for separate key lights or panels. It adjusts pretty well on the camera itself, allowing you to control the brightness. The camera also manages itself well with whatever webcam software you are using to adjust its levels, from Razer Synapse to Nvidia Broadcast. It records in full HD 1080p at 30fps and 720p at 60fps. It features a surprisingly solid pinhole microphone and mounts just as easily on the top of your screen.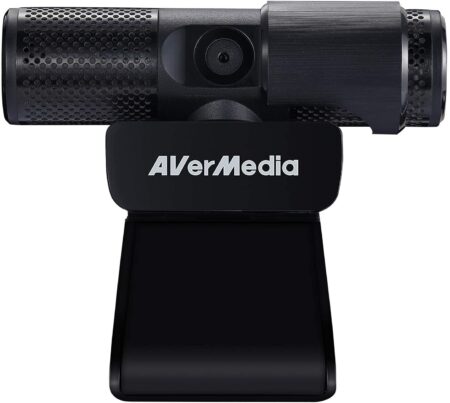 If you are looking to spend less than $100 on Amazon for a good and somewhat budget-friendly webcam, and don't want to go with the mainstream big-name brand route, the AVerMedia Live Streamer Cam is a great choice. In its name alone, it is meant for streaming.
It works with just about any computer or device with a USB 2.0 port. One solid feature it has over most of the other webcams on this list is the free CAM engine software that comes packed in. This allows you to adjust the camera's settings like its sharpness and brightness, giving you full and detailed control of your video. It shoots in 1080p at 30fps and has a good dual-sided microphone that picks up your voice well for video conferencing and even streaming for those who don't have a dedicated mic just yet. The Live Streamer Cam also features its own privacy slider for when you are not using the camera, another nice quality-of-life feature not seen in most other webcams.
On one end, the Microsoft LifeCam is as professional a webcam as one can get (as far as both video and audio quality are concerned) and extremely ideal and practical for streaming. On the other hand, it looks like a security camera for the house that companies like ADT or Brinks should include in their security packages. Either way, the LifeCam is a strong choice for those looking for a no-nonsense budget webcam.
Design aside, the LifeCam Studio is made for video conferencing and streaming. It records in 1080p and streams in 720p with a wideband mic that gives a few budget USB microphones some competition. As straightforward as the LifeCam is, it does come with its share of cool features. One of which is its 360-degree rotation capability (in the event that you want to turn your camera all the way around, away from your setup), and it includes Microsoft's TrueColor system, which shifts the camera's exposure dynamically to keep you as well lit as possible in dark situations. It won't be as bright without lighting as the previously mentioned Razer Kiyo, but it'll get you close without an actual light in your face.
For just $60, the LifeCam is actually worth considering with its video quality and small, yet necessary, features. Design-wise, well, that's up for you to judge, but nobody is going to see the camera on stream. They will all just see you, and seeing you well and clear is what matters most in the end.
For more Hardware Guides, check out 2021's 5 Best High Refresh Rate Monitors on Pro Game Guides!
This article includes affiliate links, which may provide small compensation to Pro Game Guides.