Adaptive refresh rate technologies have been around for a number of years now, but with newer video game consoles supporting them they've become increasingly commonplace even in the PC monitor market. The two big ones on the market are AMD FreeSync and Nvidia GSync, both of which accomplish the same goal but go about it in different ways. Initially they were treated separately and you needed to purchase the monitor with the specific type of technology that you were after, but not long ago Nvidia unlocked its drivers so that a large amount of FreeSync Monitors also worked with GSync technology built in to newer Nvidia graphics cards. Currently there are three types of GSync: GSync Compatible (which is just a FreeSync monitor that works with GSync), GSync, and GSync Ultimate. All three achieve the same goal of adaptive refresh rates, so if that's what you're after then read on!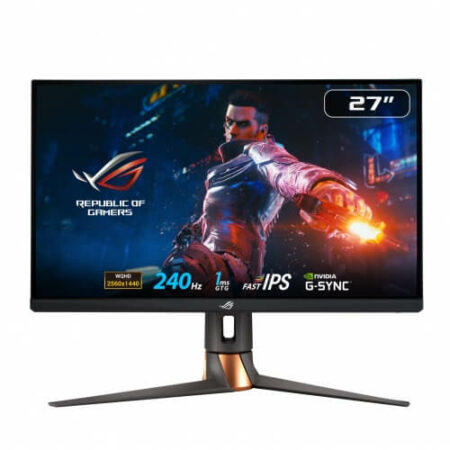 | | |
| --- | --- |
| Size | 27" |
| Resolution | 2560x1440 |
| Refresh Rate | 240Hz |
| Panel Type | IPS |
| Response Time | 1ms |
ASUS is always out to please gamers with their ROG line, and the PG279QM is no different. With its stylish gold and black base and extremely high refresh rate it will look good and perform great with just about any type of content. It's worth nothing that the HDMI ports on this monitor only support HDMI 2.0, not the newer HDMI 2.1 required for full 4K 120FPS on newer game consoles. If you hook up a Xbox Series X or PlayStation 5 the highest you're going to get via HDMI 2.0 is 4K 60FPS. That shouldn't deter PC gamers (or those with older consoles) looking to get their game on, especially if it's via the DisplayPort connection. It also supports HDR and is DisplayHDR 400 certified.
| | |
| --- | --- |
| Size | 27" |
| Resolution | 2560x1440 |
| Refresh Rate | 165 |
| Panel Type | IPS |
| Response Time | 1ms |
Acer's Predator line breaks out of their usually budget-friendly design space to deliver something really fantastic for gamers. And, honestly, it's doesn't even break out of their budget mold too much as it's still priced pretty competitively for what's on offer here. It offers HDR by way of a DisplayHDR 400 certification and a high refresh rate, both of which go nicely with its GSync compatible certification. Some small corners are cut in the interest of price: being Gsync compatible instead of fully native GSync means that it's going to be fully compatible with Nvidia's adaptive refresh rate technology even though doesn't use Nvidia's Gsync processor internally. The bottom line is that this is a FreeSync monitor that Nvidia has certified to work just fine with GSync assuming you have the newest drivers. The biggest benefit of this arrangement is the lower price compared to comparable monitors. It also includes dual 2 watt speakers that you certainly wouldn't want to game on, but might be fine for casual YouTube viewing.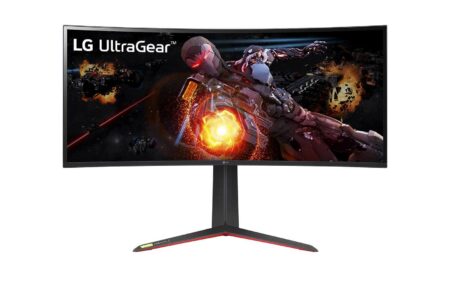 | | |
| --- | --- |
| Size | 34" |
| Resolution | 3440x1440 |
| Refresh Rate | 144Hz |
| Panel Type | IPS |
| Response Time | 1ms |
As the name and resolution imply, this is a curved monitor from LG featuring the newer GSync Ultimate certification from Nvidia, which means that it will maintain color accuracy even when using adaptive refresh rates with HDR content. It can also overclock it's own refresh rate to 180Hz assuming you have a graphics card that is capable of doing so via DisplayPort 1.4 compatibility. It also features DisplayHDR 600 certification so you'll be enjoying a high quality image whether or not you're running HDR. The RGB fitted on the back of the monitor also offers two sync modes: sound sync and video sync. The sound sync mode flashes and pulses the RGB with the audio being played while the video sync syncs the colors with the colors being displayed on-screen. If you're after a curved ultra-wide then this should do nicely.
| | |
| --- | --- |
| Size | 65" |
| Resolution | 3840x2160 |
| Refresh Rate | 144Hz |
| Panel Type | MVA |
| Response Time | 4ms |
The line between full television and monitor has never quite been as blurry as it is with the Omen X Emperium 65 from HP. This GSync Ultimate HDR monitor (if you could still call it a monitor) features a high refresh rate, a respectable response time given its size, and HDR-1000 support. It only has HDMI 2.0, so it's worth noting that the best you'll get from newer game consoles is 4K 60FPS. However it does include a built-in Nvidia Shield TV, so you'll be able to game on it even if you're not directly hooking up a computer with the Shield's support for Steam Link, Xbox Game Pass Streaming, and Nvidia's own GeForce Now. It also has built-in ambient lighting and a proximity sensor to illuminate the back panel when it detects your hands searching for a port. It also has four USB ports (two charging enabled) and HP offers a sound bar for this specific model in case you do intend to use it as a regular television.
Related: 2021's 6 Best Motherboard and CPU Combos for Gaming
| | |
| --- | --- |
| Size | 49" |
| Resolution | 5120x1440 |
| Refresh Rate | 240Hz |
| Panel Type | VA |
| Response Time | 1ms |
Ultra-wide is a pretty broad category within monitors. It feels a bit strange to refer to the Samsung Odyssey Neo G9 as ultra-wide when it's probably more accurately called an ultra-ultra-wide. Beyond being massively wide the Odyssey Neo G9 is GSync compatible, HDR10+ ready, and prepared to keep up with even the absolute beefiest GPUs with its massive refresh rate. And, as the name hints at, it also looks like something straight out of 2001: A Space Odyssey. So if you're after a space-age style super ultra-wide monitor to game on then that train stops right here.
In the never-ending quest to improve gaming performance, adaptive refresh rate technologies such as GSync are a godsend. They allow your monitor to adapt to the content being display without having to resort to performance-impacting V-sync technology or screen tearing. If you're still gaming on a fixed refresh rate monitor then it has never been a better time to upgrade to something more capable of adapting to your gaming habits.
For more hardware recommendations, check out Hard vs. Soft Mousepads: Which is Better for Gaming? and Mechanical vs. Membrane Keyboards: What's the Difference? on Pro Game Guides.