No gaming set is complete without a keyboard, primarily because it is the main input method whether you are playing a game or just using a computer. For gaming, you will definitely want a mechanical keyboard for the increased response time and admittedly attractive RGB capabilities. With the recent announcement of the Steam Deck, Valve's new portable handheld computer, a smaller keyboard will be quite handy. A mini keyboard is a fantastic option when at a desk or on the go as it can typically be wired or connect via Bluetooth. While there are a plethora of options out there, we've done our best to narrow down the best choices for any gamer out there.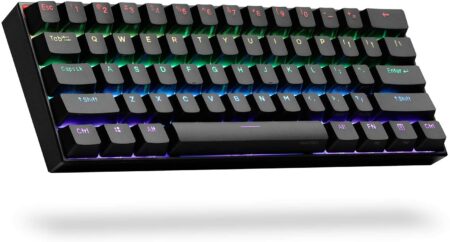 The ANNE PRO 2 is a lovely little keyboard that will certainly meet all of your gaming needs. It features a compact minimalist design while still having all the features you need. These features include customizable RGB backlit keys, fully programmable keys, and Bluetooth 4.0. With a battery life of 8 hours, you will find it works well for both short sessions and longer sessions. Additionally, the ANNE PRO 2 comes with the Obinskit software for even more customization. This mini keyboard is available in multiple switch styles, but overall provides low latency, great feedback, and isn't terribly loud. The only downside of the ANNE PRO 2 is its lack of an arrow pad as well as poor ergonomics which can eventually cause wrist pain. Overall this is an excellent choice, especially when considering that it carries a price tag under $100.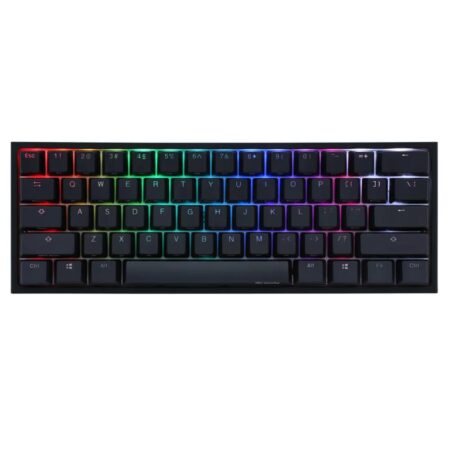 This is a ducking fantastic mini keyboard and at a price of $119, the Ducky One 2 Mini has the qualities of high-end keyboards while still being relatively inexpensive. It has a high-quality feel as it has been designed to provide the best durability and typing experience. Though it comes standard in a self-described "stylish black and white panda contrast color" there are multiple color options available. The Ducky One 2 Mini does come with backlit keys that can be set to 10 different kinds of RGB modes as well as being able to set the speed and color. To prevent wrist pain it comes equipped with double-layered feet at three adjustable angles which keep it very stable. The main downside of this keyboard is its lack of dedicated media keys, number pad, and function buttons.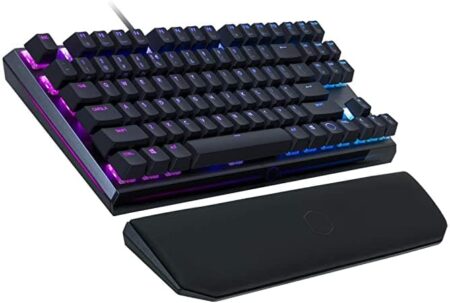 With a name like Cooler Master, it would make sense to expect some nifty features in the Cooler Master MK730 Mechanical Gaming Keyboard and it certainly does not disappoint. First and foremost we have to mention the on-the-fly functionality that allows you to adjust per-key backlighting, record macros, and switch lighting modes in-game with a few key presses. For even more fine-tuning Cooler Master has its own easy-to-use software that works in conjunction with this keyboard. Additionally, it comes with Cherry MX Switches to guarantee a quick and accurate response time. For comfort, this keyboard has a removable magnetic wrist rest to prevent pain during long sessions. With a detachable USB Type-C cable, you are able to use this keyboard wired or wireless. All of this is available for a surprisingly great price of $129.99 and can be often be snatched up on sale as well.
Related: 2021's 5 Best Mini PCs for Gaming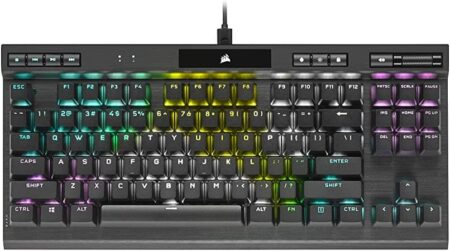 The Corsair K70 RGB TKL Champion Series is a steal of a deal at only $139.99 and even goes on sale regularly for better savings. Corsair has always produced top-of-the-line products and their keyboards are no different. This keyboard, in particular, boasts 8000Hz hyper-polling and by flipping its tournament mode switch, the Corsair K70 is up to 8x faster than standard gaming keyboards. It also has customizable RGB backlit keys to personalize it however you see fit. Additionally, it has a detachable USB Type-C cable to eliminate any troubles that may occur via a wireless connection. It features a fantastic build quality as well as being resistant to sweat and oil for long intense sessions. The keys are a little closer together than other keyboards so you may need to adapt to this. The Corsair K70 comes in multiple styles, though the Cherry MX Speed Silver tends to be the most popular for its lightning response time and short actuation distance.
When it comes to budget, it doesn't get much more friendly than the E-Element Z-88 RGB Mechanical Gaming Keyboard. You'd expect that at $42.99 this keyboard would be missing many of the features of its more expensive competition, but you would be surprised at what comes included here. It comes in five different colors and has multiple options for which type switches for all preferences. For its RGB backlit keys, there are a variety of different light modes which can be changed with a few key presses. Its design is quite compact which is expected from a mini keyboard and it features Anti-Ghosting keys that aren't too loud when pressed as well as rapid response time. Finally, it has an ergonomic design that will prevent fatigue during long gaming sessions and a high-speed USB cable.
The petite HyperX Alloy Origins 60 is a fantastic choice for those who prefer small. Available for just under $100 this keyboard toes the line between budget and high dollar while having the benefits of both. It is built with aircraft-grade aluminum and has three customizable angles as well as a detachable USB C cable. The HyperX Alloy comes in switch options of red, aqua, and blue, and regardless of which you choose you can expect speed and accuracy. The RGB backlit keyboard features advanced customization through HyperX's NGENUITY software that allows you to customize game mode, build macros, and set up lighting effects. While the HyperX Alloy has a compact design and therefore fewer keys, with the stock double shot PBT keycaps you don't lose out on function and as the secondary functions are printed on the keys they are easy to find.
Related: When does the Steam Deck Release?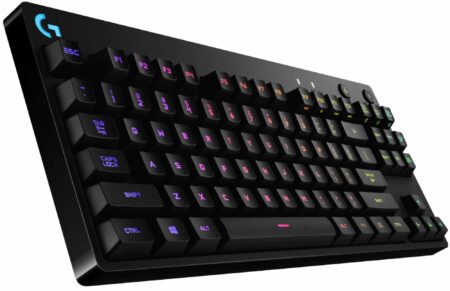 Logitech is a tried and true name in the gaming industry as a result of its high-quality product and support. The Logitech Pro X Gaming Keyboard provides the experience of a top-of-the-line keyboard all while being under $100. As a mini keyboard and featuring a tenkeyless design, the Pro X is easily able to be taken anywhere and with its detachable micro USB cable can be played wired or Bluetooth. This keyboard has been built for competitive play and as a result delivers a performance that blends high speed, precision, quiet key presses. Its switches can be changed manually by the user ensuring it is customizable for any type of gamer and also extends the life of the keyboard at the same time. For stability, the Logitech Pro X comes equipped with three-step angle legs with rubber feet. Lastly, the Pro X has 12 programmable F-Key macros that can be customized with Logitech's G Hub software. Logitech has targeted the pro scene with this keyboard and has made a compelling argument as to why you should purchase this keyboard over others.
Another name that needs no introduction is Razer and while the Razer Black Widow line is one of their most popular, the Razer Huntsman Mini Mechanical Gaming Keyboard is an innovative and fantastic keyboard. Razer has added Linear Optical switch technology in order to make this keyboard faster than traditional Mechanical Switches. As a result, gamers will have a much quicker response time and speed out of their key presses. The Huntsman Mini also features ultimate customization and immersion with its backlit keyboard that can sync with popular games. The Razer Huntsman also has fully programmable macros for even more customization. Since this mini keyboard is designed for mobility, it has a durable and high-quality build to prevent the build-up of grime and damage. For switches, the Razer Huntsman comes in the industry standard red or in purple, but reviews tend to find the purple lacking. Therefore, until the issues are addressed with the Purple Clicky Opticals you should stick with the Linear Red Switches.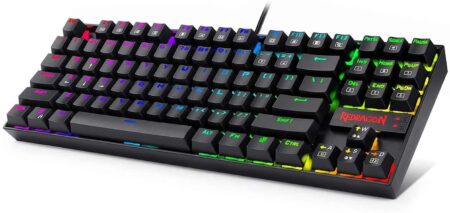 The Redragon K552 KUMARA RGB is a surprisingly fantastic keyboard at a fantastic price. This budget laptop comes in at under $50 but still maintains a high-quality standard. It has custom Cherry Blue equivalent switches that offer great durability and responsiveness. You wouldn't expect RGB capabilities from a keyboard with this price but sure enough, it is a feature of the Redragon K552 KUMARA. Not only that, but the RGB comes in 18 different lighting modes as well. For its design, there is nothing that really stands out as far as looks, but it does have an ergonomic and tenkeyless design with adjustable angles. It also has a high-speed USB cable which is unfortunately not detachable and features a splash-proof design, though you shouldn't take it to the water park. All-in-all for its price, the Redragon K552 KUMARA RGB is a fantastic addition to anyone's gaming build and especially those who blew their budgets on mice, headsets, and monitors.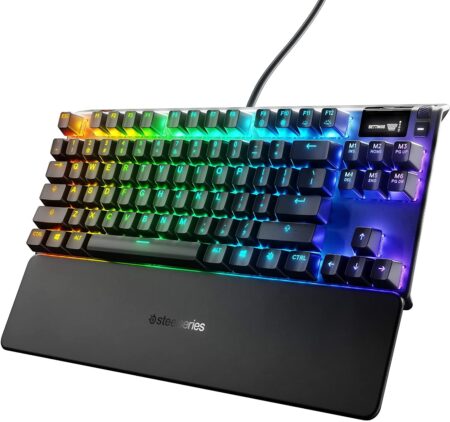 SteelSeries has always produced quality products that also look stylish. The SteelSeries Apex Pro TKL Mechanical Keyboard falls into both of these categories and is a little higher up on price, but is absolutely worth it. This keyboard comes standard with OmniPoint adjustable switches but is available in a variety of other options as well as such as Cherry MX Red, Brown, and Blue. These switches can be adjustable quickly on the fly via the OLED display built into the keyboard itself. The Apex Pro features an aircraft-grade aluminum alloy build and an ergonomic design. It also features a removable magnetic wrist rest to prevent wrist pain during long sessions. The SteelSeries Apex Pro TKL Mechanical Keyboard is a top-of-the-line product that will last you for quite some time and make gaming feel like a dream come true.
Regardless of what games you play, you will definitely need a mechanical keyboard in order to get the most out of your game. For gaming keyboards, we prefer to have the best of both worlds when it comes to functionality and budget and therefore we recommend the Ducky One 2 Mini or the HyperX Alloy Origins 60.
For more information on gaming accessories, check out 2021's 5 Best Esports Keyboards and 2021's 9 Best Gaming Earbuds on Pro Game Guides.