The best thing to happen to gaming keyboards was getting rid of that old, unnecessary number pad and giving us more room on a desk for more important things: like bigger mouse pads for lower-sensitivity mice.
Tenkeyless, or TKL, keyboards have been around for a while now and as numerous brands have taken their shot at creating the best TKL keyboard for gamers, very few have actually hit the mark when it comes to performance considering the smaller form factor. Even though some add functionality despite the smaller form factor, it is performance that matters at the end of the day. These keyboards below combine both functionality and performance perfectly.
These are the five best TKL keyboards in the market now.
Related: 2021's 5 Best Esports Keyboards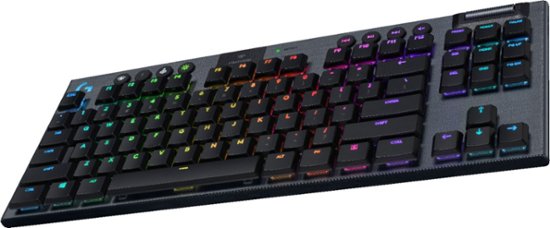 Considering the current wave of just about everything going wireless, it's only fitting that we open the list with the only wireless keyboard making this list.
The Logitech G915 TKL eliminates the use of any wire outside of charging it and with its Bluetooth and 2.4G wireless connection capabilities it boasts versatility that is not seen in many other wireless keyboards. Bluetooth mode does not require any kind of dongle, allowing it to connect to numerous devices like tablets, phones and other laptops. The 2.4G connection does requires the dongle as expected and, unlike in Bluetooth mode, allows for a stronger and faster response necessary for gaming.
Much like nearly every gaming keyboard in the market, the G915 TKL includes RGB lighting and the battery is said to last approximately 40 hours at full brightness.
What makes this keyboard stand out from the rest is its lack of hot-swap customization. Unlike the popular G Pro X, you cannot hot-swap the switches although you can order the specific ones you want on your board through the Logitech G website. It also uses a different type of keycaps, not the usual PBT or even ABS ones that are featured on most other keyboards, especially the others in this list.
Coming in at anywhere between $200-$230 this is the most expensive and premium keyboard in the market right now, especially on this list.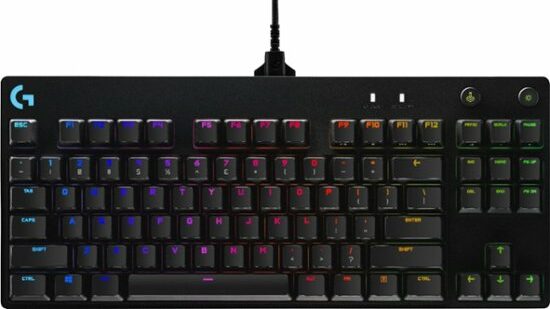 As I've mentioned in previous posts, the Logitech G Pro/G Pro X is a personal favorite of mine and my current main at time of publishing -- I am typing this on the G Pro.
It is as reliable as one would expect a premium Logitech keyboard to be and the G Pro and G Pro X are as fast as I'd expect from a Logitech gaming keyboard, making it an almost unanimous pick amongst esports pros and major streamers around the world.
It allows you to choose between one of three switch options: Logitech's own GX Blue Clicky switches which come standard with the G Pro, along with the GX Red Linears and GX Brown Tactiles which are available for the G Pro X. The GX Browns and Reds have a shorter actuation point at 1.9 millimeters with the GX Blues coming in at 2.0 millimeters, yet, depending how you type or press your keys, the response time is just about the same.
The G Pro X's switches are hot-swappable while the base G Pro is not and comes with the GX Blue Clicky switches which as fast and as responsive as I need them to be.
Both keyboards allow for keycap customization. The board uses standard ABS keycaps, which aren't bad. I upgraded my Logitech G Pro's keycaps to HyperX's doubleshot PBT keycaps, which have more of a premium, lasting feel as compared to the G Pro's stock ABS caps. My D-key was all but scratched off after about six months of use, which led me to changing the keycaps.
Both keyboards connect to Logitech's G Hub software, allowing for full customization of the boards, from profile settings to RGB lighting customization.
Starting at $130 for the G Pro and $150 for the G Pro X, both are on the pricier side of TKL keyboards. Compared to other keyboards at this price point, Logitech should offer more for the price like having both boards be hot-swappable, or even an aluminum frame, or even USB-C charging which is becoming more and more the norm in this generation—at least all of that should come with the G Pro X for $150.
I'd recommend the G Pro X for keyboard enthusiasts who will take the time to switch out the switches on the board to the newer faster switches to hit the market. For those looking for a solid, still fairly premium type of TKL keyboard, the regular G Pro performs the same as the G Pro X and saves you some money.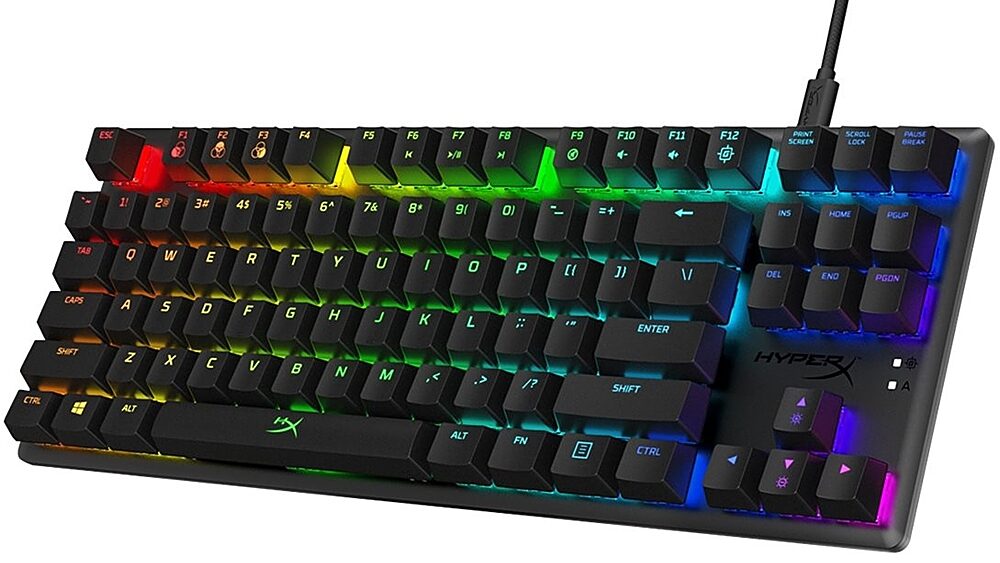 HyperX has always given their users premium products at a relatively low price and the Alloy Origins Core TKL is no exception.
Checking in at just $90 the Alloy Origins Core TKL comes with an aircraft-grade aluminum frame, PBT keycaps, a detachable USB-C charging cable and, of course, RGB lighting (very bright RGB lighting).
Like most other TKL keyboards, the Alloy Origins TKL maintains the same full functionality that a full-sized keyboard does, all while holding down the "FN" key: volume and track controls, brightness settings for the RGB, and three different profile selections which change whatever lighting and macros settings you have per profile.
It uses HyperX's own Cherry MX switches. Both the Red Linears and new Aqua switches are available at your local Best Buy with the Blue Clicky switches available online if you prefer that one.
While it is as basic and possibly as plain as a TKL keyboard can get, the Alloy Origins Core TKL is also one of the most reliable and easily accessible keyboards out right now. At just $90, and usually on sale more often than not ranging between $60-$75, the Alloy Origins Core TKL is hard to pass up.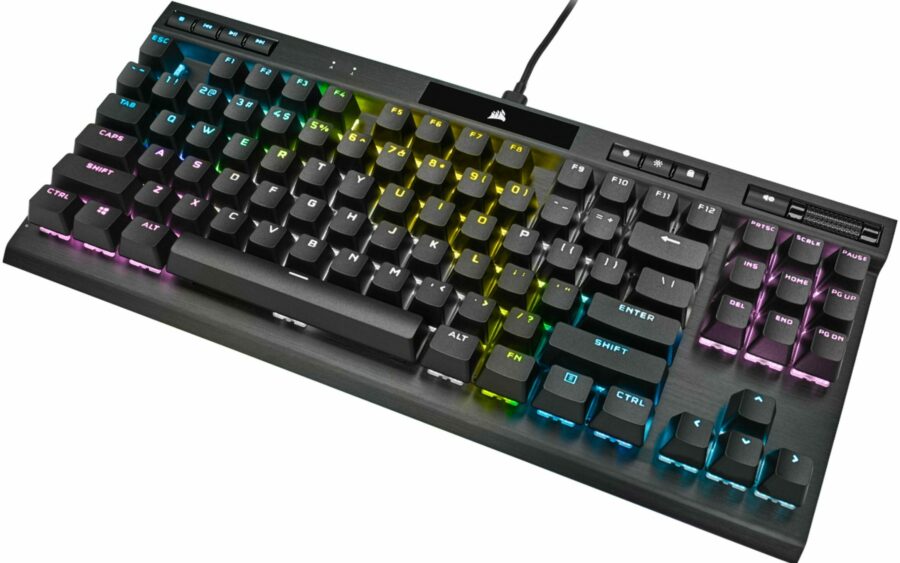 Tenkeyless keyboards are primarily meant for gaming. However, Corsair's K70 RGB TKL finds a way to pack both gaming and quality-of-life all in one fun-TKL-sized package.
The K70 RGB TKL is unapologetically gaming first, of course. It comes with certain switches that are meant for gamers, it has its bright RGB backlighting and even includes a "tournament switch" at the back along with low input latency.
Although it comes with premium gaming features dedicated towards its intended esports crowd, it keeps casual gamers and normal users in mind as well. Unlike some of the other keyboards on this list it comes with dedicated media keys and a volume wheel at the top of the keyboard. It's not hot-swappable and comes with doubleshot PBT keycaps allowing you to change the keycaps out if you choose to. It uses standard Cherry MX Red linear switches and can also be ordered with Cherry MX Speed Silvers if you need nearly instantaneous response time.
With that said, there are better switches out there. The K70 just doesn't prioritize it as to keep itself open to the casual market.
Speaking of response time, the K70 boasts an 8,000Hz polling rate with Corsair's software, eight-times the average speed by most other keyboards, especially the ones on this list. This is the fastest keyboard on this list and it isn't even close.
However, that comes with a small catch. The 8,000HZ polling rate comes from within Corsair's iCue software and warns you that the higher polling rate will use more system resources, which could result in lag or simply crashing out of a game if you're not careful. If you have the right specs you should be just fine, but if you have a lower-end, budget type of PC, you're probably better off sticking with the 1,000Hz rate, if not increasing it slightly higher if necessary.
It isn't bad for typing, making it a decent pick at best as an everyday keyboard for those who need to transition from late-night gaming to work-from-home, or vice-versa. The keycaps are durable and are comfortable enough to type with and its physical media dials are a nice change compared to other TKL keyboards.
At $140 it lands on the pricier side of other TKL keyboards much like the Logitech G Pros. The gaming features on this keyboard balance the decent non-gaming features the K70 RGB TKL has to give it a fair price.
It's a gaming keyboard first and foremost and a life keyboard second. At its price point, that's exactly what you're getting.
The Razer Huntsman Tournament Edition (TE) is a vastly popular TKL keyboard and originally set the bar for TKL keyboards as we have them today.
The Huntsman TE screams esports. There's no number pad, the keyboard is purely focused on competitive gaming and its performance matches that. It features optical switches instead of the Kailh type of switches we see everywhere else which are, more often than not, hot-swappable.
The optical switches that the Huntsman TE uses have hair-trigger like actuation, reducing the response time from keypress to command even more. The trigger inputs use beams of light rather than physical contact from within the switch. Pressing down on a key allows the beam to pass through from one side to another completing the circuit and signaling that the key has been pressed. It requires only 45 grams of force to actuate, with just 1mm of depression out of a 3.5mm travel distance.
This keyboard is really perfect for fast, twitch-response type of first-person shooters or battle royales like Fortnite, Apex Legends, and Call of Duty.
The Huntsman TE also comes with RGB backlighting which can be configured through the Razer Synapse along with whatever macros you want to set for the board. The keyboard's onboard memory allows for up to five different profiles to be set up, keeping up with the Huntsman TE's portability factor.
The Huntsman TE's $130 price tag is fair despite not getting a keyboard that "does more" than the average TKL. However, with switches that seemingly work faster than the speed of light and a keyboard that's proven to be very reliable and solid in the gaming space, it's definitely one to consider—especially when it's on sale, which is often.
For more Hardware Guides, check out 2021's 5 Best Mini PCs for Gaming on Pro Game Guides.