There are a few things you have to give up when searching for a budget desk chair. Things like high-end ergonomics, extensive adjustability, and memory foam cushioning tend to be difficult to find for less than a $100 bill. But many of you likely use your desk chair for short stints of gaming or browsing and don't exactly need the high-end ergonomics of a chair that costs five times as much as its more cost-effective competition. You just need something moderately comfy and affordable.
In this price category, one thing to be aware of is the difference between the two primary materials you'll be dealing with: fabric and PU leather. PU leather, which is artificial leather, often tends to crack and flake over time. The nature of PU leather means that it's very easy to clean but will eventually start to look shabby. Fabric, on the other hand, will breathe more and look better over time but is dramatically harder to clean. In the end, it all boils down to preference and exactly what you want to get out of your chair purchase.
Furmax Mesh Desk Chair
First up, we have a mid-back design from Furmax. The design is a little by-the-book, but it hits all the necessary notes as far as desk chairs go. The mesh back will keep you cool during prolonged sessions, the single-piece plastic armrests won't break down, and it features both tension and height adjustment. The only major concern here is the cushion, which is made of cotton padding that will eventually break down over time. But, at under half of our $100 budget adding an aftermarket cushion when the built-in one does start to break down is an acceptable long-term solution. It also comes in just about every color of the rainbow, so matching your office aesthetic won't be an issue. This is about as cheap of a chair as you're going to find that's still going to provide some amount of usability, so if maximizing your budget is your goal then it's a solid contender.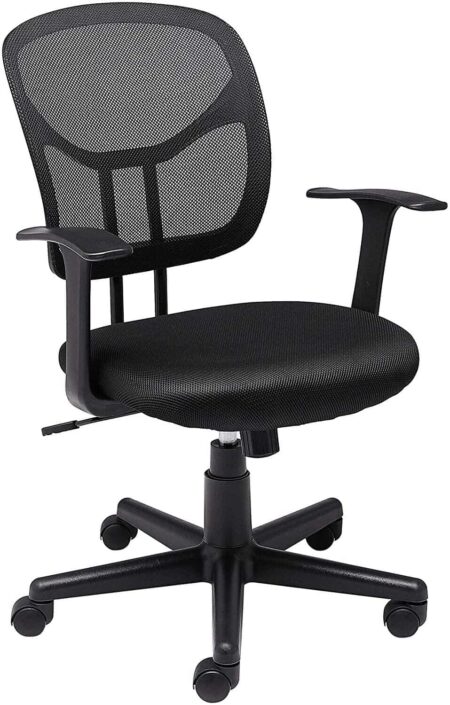 This mid-back offering from Amazon and their Amazon Basics line is similar to the Furmax one featured above. It offers the same level of adjustability, the same heavy duty arm rests, and the same breathable mesh back. But it also offers a thicker, more robust cushion that's going to hold up better in the long term. Cost-wise it's about double what the Furmax runs, but your posterior will thank you if you're the type to sit for long periods of time. If you're after a basic design with a decent cushion in this price range, then it's a good pick.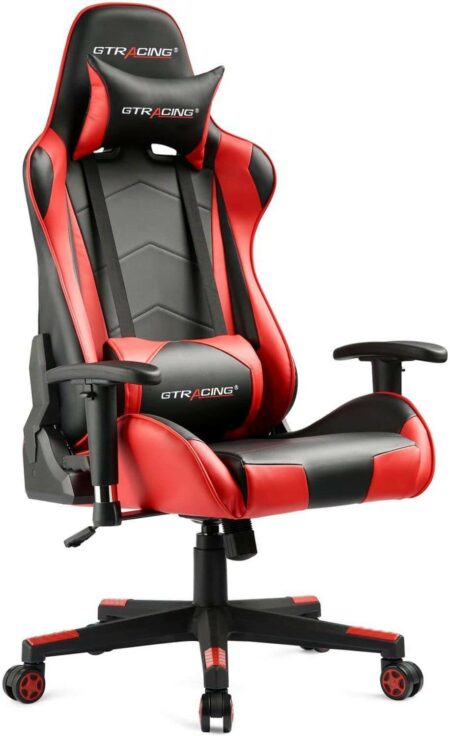 Getting into gaming chair territory we have the GTRACING gaming chair. While the price is going to fluctuate depending on your time of purchase, this chair currently fits our budget and often goes on sale. It features a full backrest with a 160-degree recline, adjustable head, and lumbar pillows, adjustable armrests, and standard tension and tilt adjustment. The only point of concern is the material, which is PU leather, which could degrade over time, but that's expected of nearly any PU leather chair. It also comes in a litany of colors to match your preference. It's pretty difficult to find a gaming chair with this many features at this price range, so don't sleep on this deal.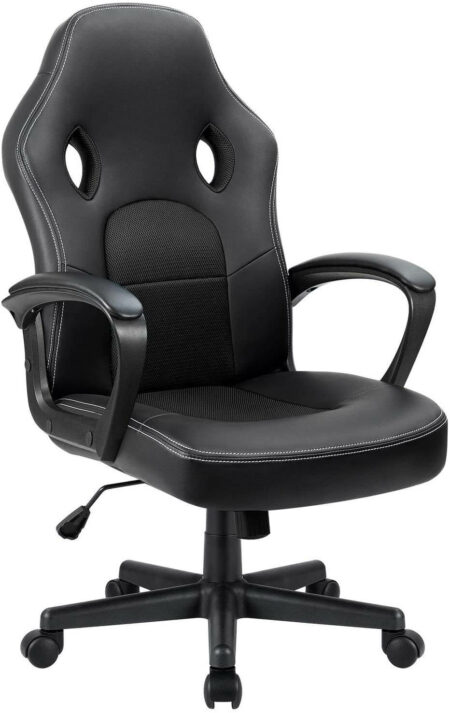 This Furmax chair is a hybrid between more traditional desk chairs and the more modern racing-style gaming chairs entering the market. It features a combination PU leather and fabric finish, with the fabric being in the high friction portions of the chair. This means that in the proverbial high traffic zones of your chair you don't have to worry about the PU leather breaking down, as it has been replaced with fabric. Having fabric in the center of the backrest and seat also increases breathability in those areas, while maintaining the easy-to-clean nature of PU leather on the rest of the chair. If you want the best of both worlds, this Furmax chair is a good combination of features and price.
This armless Hodedah features a plastic bucket seat style design that won't degrade over time, and has a built-in seat cushion for added comfort. The cushion itself is topped with PU leather which will— given enough years—wear. But the chair's basic structure is constructed for the long haul. This Hodedah chair includes the usual array of tilt tension and height adjustment, and has a chrome base that nicely accentuates its striking red color. If you're looking for a solid, long-lasting design without arms, it's a good option.

Related: 2021's 5 Best Fabric Gaming Chairs
While the Urban Shop Acrylic Rolling Chair is certainly not the comfiest chair on our list, it's comfortable enough, and the entire seat portion is made of tinted acrylic that will still be kicking years down the line. The bucket design of the seat means that it's a single piece of plastic instead of two pieces bolted together, and the colored base adds a bit of flair to the design. It's not exactly like sitting on a cloud, but if you want a chair for under $100 that you can buy for life, it's hard to go wrong.
Choosing a desk chair is tricky business. You don't want to sacrifice your comfort solely in the interest of saving a buck, but at the same time if you're only in it for a few hours a week a high dollar ergonomic chair probably isn't a worthwhile investment. Thankfully, in the $100 price range it's easy enough to split the difference and get something that will provide comfort without cutting too far into your home office budget.
For more guides check out Best Gaming Hardware Holiday Gifts and How to fix FPS and stuttering issues on Battlefield 2042 on Pro Game Guides.