The keyboard you use always seems to be the centerpiece of any gaming setup. Regardless of how much RGB you pack into your PC case or how massive your monitor is, there's just something about keyboards that draw the eye. Keyboard color might sound a bit inconsequential to some, but getting one that fits your desk aesthetic and personal preferences can really enhance your experience using your computer.
As far as gaming, all the keyboards here will work well in just about any games you throw at them. It's advisable for very fast-paced games to select linear style keyswitches (such as Cherry MX Red), but any mechanical keyswitch is going to perform better than its membrane counterpart.
Filco is well-known in the mechanical keyboard world for making solid, no-frills keyboards that might not blow you away with features, but will stand the test of time. The Majestouch 2 Pink comes in either blue or brown Cherry MX keyswitches, and is compatible with Filco's KOBO frame system. What it lacks in advanced features it makes up for with durability and reliability. For those who want a truly customized experience the KOBO frame system offers many different frame options.
Leopold FC980M Pink PD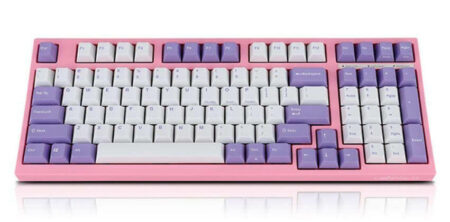 The Leopold FC980M offers a bit more color than the stoic Filco Majestouch 2 by way of its pink frame and dual-color keycaps. Layout-wise the FC980M is interesting in that it includes a number pad, but maintains a small footprint by moving the less used functions (Home, Insert, End, etc.) to the function layer. In doing so, Leopold was able to still squeeze in true arrow keys by removing the menu key from the right side modifier key cluster and shortening the traditionally long zero key on the number pad.
The end result is a layout with tremendous utility, function layer accessible special keys, and most of the usability of a full 104 key layout. It also features a removable USB cable, several different Cherry MX keyswitch options, double shot PBT keycaps.
Ducky X Varmilo MIYA Pro Sakura Pink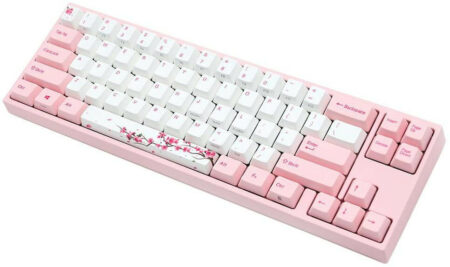 Ducky has made a name for itself with extremely stylized keyboards. It releases several of them per year in limited quantities, so there's almost always have something new on offer. Ducky's crossover with another designer keyboard brand, Varmilo, resulted in the MIYA Pro Sakura Pink. At a 65% layout this one might be a touch small for games that make heavy use of lots and lots of special function keys—such as space sim games—but the majority of gamers will likely have no issue.
The pink and white layout works perfectly with the cherry blossom design on the space bar, and the design is continued on the escape key. And to top things off, the backlight itself is also pink, which frames the entire keyboard perfectly. If you prefer smaller layouts then this keyboard will serve you well outfitted with one of the many keyswitch types on offer for it.
Varmilo VA87M Sakura Pink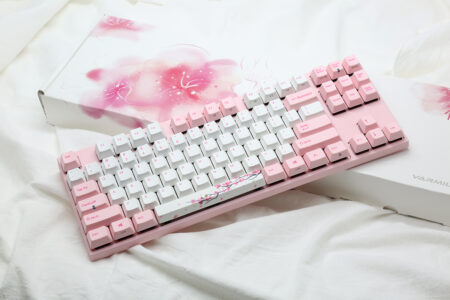 Varmilo has its own version of the Sakura Pink keyboard, and at first glance it would be easy to mistake the Ducky and Varmilo versions for one another. But closer inspection reveals that they are actually quite different. The Varmilo version keeps the pink backlight but offers a larger layout with dedicated special function keys, a full-function row, side-printed multimedia functions, and an almost non-existent bezel.
It also features LED indicator lights for both the caps lock and scroll lock keys, while maintaining the same attractive pink-and-white cherry blossom design. So if you love the look of the Ducky but need something just a bit bigger then the Varmilo version of the Sakura Pink is an easy choice.
Related: How to Remove Keycaps | How to Take Off Your Keyboard's Keycaps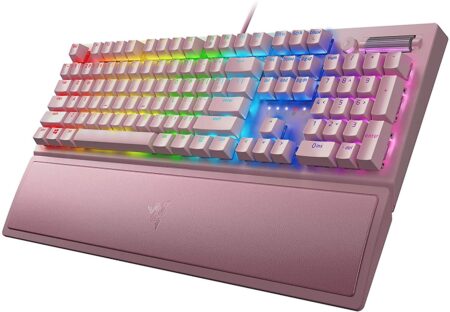 Now we're getting into dedicated PC gamer territory with the Razer BlackWidow V3. It comes equipped with your choice of Razer's own green or yellow mechanical keyswitches, which are transparent to allow the RGB to pass through more easily. In addition to being a full-size layout it also offers a programmable dial, a cable channel for routing the cord, a detachable wrist rest, and full compatibility with Razer's own Synapse software for further customization. Razer offers many of their peripherals in matching pink color schemes for ultimate coordination.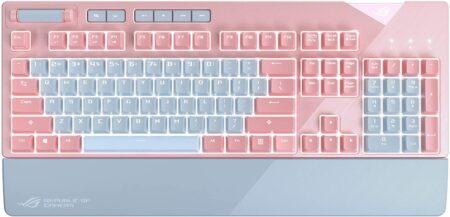 Never one to be bested when it comes to catering directly to gamers, ASUS has started offering their own pink keyboards in their ROG line. The Strix Flare Pnk has a pastel pink and blue color scheme, and it offers Cherry MX keyswitches in multiple different variations. Much like the Razer BlackWidow V3 it offers a built-in dial, but includes dedicated media keys. Nestled in among said media keys is also a Windows key lock button, which is invaluable to gamers who are prone to accidentally minimizing their game with the dreaded Windows key mistype.
Like Razer, ASUS also offers this same pink/blue color scheme across a wide array of its accessories, so if you're dedicated to your aesthetic it makes this keyboard an easy choice. Notably, ASUS also offers the Strix Flare Pnk with the difficult to find Cherry MX Speed Silver keyswitches, which are going to actuate faster and easier for gamers who demand the absolute fastest key presses.
When it comes to PC peripherals, function may trump form. But that doesn't mean that you can't spend some time selecting a keyboard that you enjoy looking at. It might not net you any extra FPS or make you faster on the draw, but having a keyboard that you like looking at and interacting with can enhance your PC gaming experience nonetheless.
For more hardware recommendations check out The 5 Best Gaming Monitors for the PS5 and 2021's 5 Best Wi-Fi Extenders for Gaming on Pro Game Guides.
This article includes affiliate links, which may provide small compensation to Pro Game Guides.