Gaming PCs just take up a lot of space. Between your monitor, keyboard, mouse, desk accessories, and PC tower, you already have to dedicate an entire section of your home to the hobby. But what if you're in a dorm or just don't have a home office dedicated to getting your game on? Thankfully a few manufacturers are making smaller desks that will fit a basic array of PC hardware or even a gaming laptop without consuming an entire room.
For this list, we've kept the desks under the 40-inch mark, so as long as you have roughly 40 inches of spare room, you'll be safe with any of these choices.
This desk from Coleshome clocks in the right at 31 inches high, 20 inches deep, and 29 inches tall. Beyond that, it's about as basic a desk as you can expect to find in that it's basically just a tabletop with legs, but when you're cramming down into a small space, sometimes less is more. They offer larger versions in up to 55 inches if you have a bit more space to work with. And we've saved the best for last: it's under $50 and comes in eight different color variations. No, it won't turn heads, but it will serve admirably in tight spaces. And that relatively plain design leaves room for adding your own headphone hooks, drink holders, and other accessories as you see fit.
Related: 2021's 5 Best 8K TVs for Gaming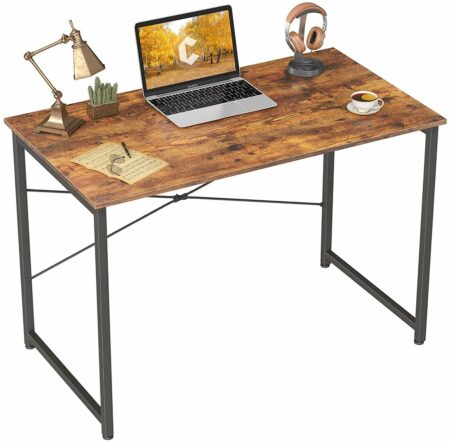 This desk from CubiCubi looks relatively similar to the Coleshome desk in that it's a bit of a blank slate, but like the previous desk being a blank slate means that you have more room to customize to your liking. It comes in various sizes, starting at 32 inches and going all the way up to 55 inches. It also features a brace along the back legs if you are the type to lean very heavily on your desk. It also comes in several color variations to match your office decor.
Walker Edison Modern Computer Desk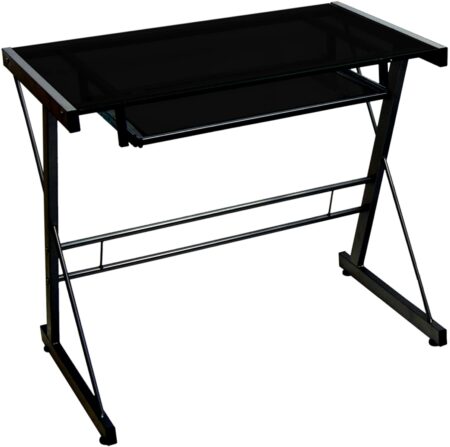 This desk from Walker Edison is a bit more traditional as far as computer desks go. It has angled, braced L-style legs with a sliding keyboard tray to keep your already narrow desktop free from clutter. It also features an easy-to-maintain glass top with a 100-pound weight limit and comes in a handful of color variations.
Now we're getting into real gaming desk territory with this Z-style desk from Mr. IRONSTONE. As the name implies, it uses the tilted Z-style leg supports common in gaming desks with a large crossbar for support. At 31.5 inches across, it features dual cable routing holes, a headphone hook, and a drink holder to keep liquids off your desktop.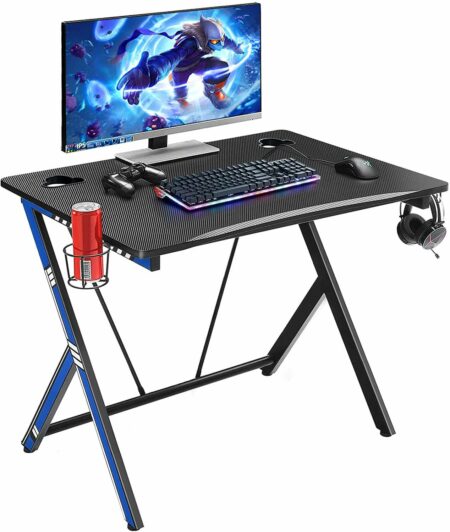 Another from Mr IRONSTONE, this model uses a more traditional leg setup with two small vertical support bars—a useful feature for those of you who habitually hit your knees on the horizontal bar design. It also has a 31.5-inch width and features a headphone hook and a drink holder, giving up the cord routing cables.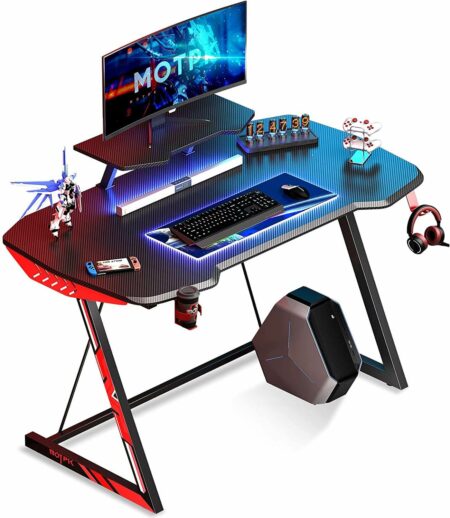 Finally, we have a desk from MOTPK that just barely scrapes in under our size requirement at 39 inches wide. They've put that extra space to good use with a monitor stand, drink holder, headphone hook, and an ergonomic design that makes sitting up close for gaming significantly more comfortable than a standard rectangle design. So if you do not want to give up large desk features but need to cram your gaming rig in a corner, this should fit nicely.
Getting used to a small gaming space is a bit of a transition if you're used to the unfettered freedom of filling an entire room with your gaming ephemera, but with a nice desk and a decent pair of headphones, you'll forget your surroundings in no time. Just because you're moving to a dorm or smaller living space doesn't mean you have to give up PC gaming!
For more hardware recommendations check out 2021's 7 Best Ultrawide Monitors for Gaming and 2021's Best Uninterruptible Power Supplies on Pro Game Guides.
This article includes affiliate links, which may provide small compensation to Pro Game Guides.