If you're short on desk space, one of the first things you're probably looking to cut is your mouse area. Out of habit, many of us use very large mousing areas, despite the fact that most higher end mice these days have adjustable DPI. This means it's easy to tune your mouse to be very usable in a relatively small amount of space, but it also means you're probably going to need a mouse pad to match.
This mouse pad from Audimi is about as simple as it gets. It's a six-by-eight inch piece of neoprene with a smooth glide cloth surface, nonslip rubber backing, and a slew of different color choices. It won't impress your friends, but it will take up just enough room for your mouse without sacrificing valuable space. It's especially useful if you're trying to fit a mouse and keyboard on a slide-out keyboard tray and need every inch you can get. It's also machine washable, so you don't have to meticulously wipe down any surfaces when it gets dirty.
Related: Best Gaming Mouse for Laptops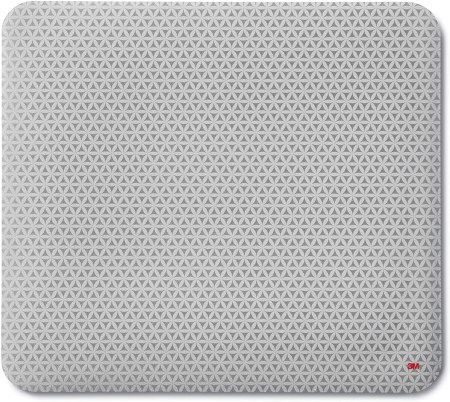 If you've been using computers for a while, then chances are you've encountered a 3M Precise before. 3M claims that their unique surface color and pattern can actually improve the battery life of wireless mice by requiring less effort for the laser to track across the surface. The plastic top also makes it super easy to clean, and the foam backing provides a small amount of cushion while remaining nonslip in use. They come in a variety of sizes, are tough as nails, and can be had for barely more than five dollars.

Like the more simplistic version of the 3M Precise, the Precise with Gel is durable and can improve your mouse battery. But unlike it's more mundane counterpart it includes a gel wrist rest for better ergonomics when mousing. While the cloth on the wrist rest makes cleaning this one slightly more difficult, the improved ergonomics can help prevent repetitive stress injuries.
Amazon Basics has just about everything, including mouse pads. This is a contemporary style neoprene mouse pad with cloth top and a gel-filled wrist cushion for comfort. It's about as basic as gel-infused wrist rest mouse pads come, but it's always in stock and performs well. If you're curious about a lower-end options that are reliable, this one may be a fit.
If you're after a more extreme fix for wrist strain, then this mouse pad from HUEILM might help. It completely throws out traditional mouse-pad design in favor of what is essentially a giant wrist pillow for resting the majority of your forearm on. The bottom is covered in semi-adhesive plastic so it will stay in place during use, and it has an eight-degree tilt that slopes from the middle. This tilt means your wrist and forearm will stay in alignment regardless of how long you're at the computer.
Related: Best Bluetooth Mouse for Gaming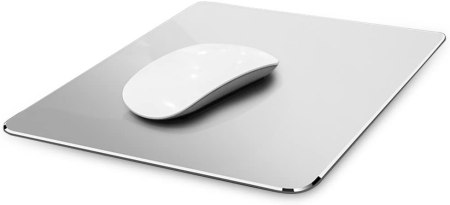 This aluminum mouse pad from Vaydeer will probably last longer than any computer you might want to pair it with. It's an extremely simple and elegant design: one single nine-by-seven-inch piece of aluminum alloy with a mirrored edge. Apple fans will feel right at home with this aluminum that nearly perfectly matches the look and feel of metal used on MacBooks. It's stylish, impervious to basically everything, and won't eat up a lot of desk space.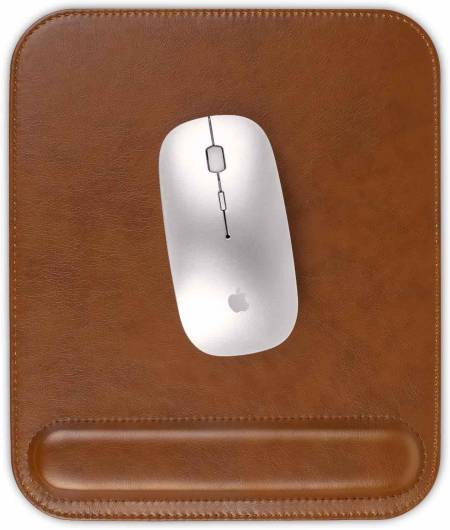 This mouse pad from LAMOTI will reduce your desk clutter while looking stylish at the same time. It's a PU leather-coated mouse pad with built-in wrist cushion, and it comes in both black and brown. While PU leather is normally a primary target for wear in desk chairs, the stationary design of a mouse pad means that this classy-looking mouse pad will last for years to come.
Sometimes, less really is more, like when it comes to how much of your desk you're dedicating to mousing space that you're just simply not utilizing. Freeing up a bit of space and getting some better ergonomics will help your wrist health as well as your productivity.
For more hardware guides check out Best Vertical Computer Mouse and Best M1 Pro and M1 Max Mouse on Pro Game Guides.
This article includes affiliate links, which may provide small compensation to Pro Game Guides.