In the past, choosing the right motherboard was a bit of a minefield. Manufacturers would pump out wildly different boards with wildly different abilities and just leave it up to the consumer to decide which one is right for them and their respective hardware. Thankfully Intel and AMD have started to exert more control over their chipsets and each motherboard manufacturer's control over said chipsets. Fast forward to today, and most motherboards have a pretty standard set of features determined by their specific chipset.
Intel's Z490 chipset launched in the second quarter of 2020 and includes support for Comet Lake (10th Gen) processors, Optane memory, Wi-Fi 6 AX201, 2.5 Gbps Ethernet, and a boatload of other technical features. Thankfully if you're after a Z490 board then you can assume some basic support across most major manufacturers, so exactly which board you choose will likely come down to things like form-factor, color, aesthetic options (like RGB), and cost. If you're looking for full Rocket Lake CPU support or PCIe 4 then you may want to move on to the Z590 boards, since support for those is still manufacturer dependent on the Z490. However, some manufacturers do list PCIe 4 support, which we'll notate below but don't expect it unless the manufacturer explicitly states it. Take a look below to see our picks!
For the Mini-ITX build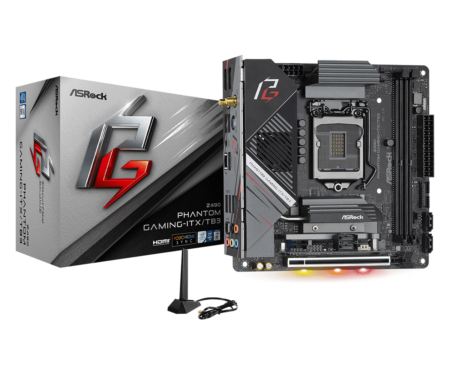 This motherboard from ASRock, long known in the budget motherboard space for producing high quality boards, features all of your standard Z490 creature comforts. Out of the box you're going to get 7.1 channel HD audio with the Realtek ALC1220, four SATA3 connections, dual Ultra M.2 slots, built in Wi-Fi 6 802.11ax, and Bluetooth 5.1. Like most mini-ITX boards it sacrifices a port or two in the name of size and efficiency, but still manages to include three USB 3.2 gen 2 ports, four USB 3.2 gen 1 ports, and a Thunderbolt 3 port. It also comes with something we don't see very often in motherboards: a built-in fan to keep things running extra cool even when you're gaming at your hardest. To top things off it also has support for Polychrome SYNC to adjust the RGB lighting along the edge and comes with a very classy gray, black, and red color scheme for those of you who need the space efficiency of the mini-ITX specification but still want to show off your new hardware.
For the all-white build
It might sound weird to those of you who don't color-coordinate your computer parts, but finding white PC components is truly difficult. They're out there, but they are few and far between to the point that many have to resort to aftermarket shrouds and covers to achieve that clean all white aesthetic. Thankfully GIGABYTE's Z490 Vision G is up to the task. No, the entire thing isn't completely white, but the shrouds, I/O shield, and heatsinks are all either white or very silvery gray. Which, in the realm of motherboards, is about the best you can ask for since finding actual white PCBs is still pretty difficult. In addition to looking good, it also supports PCIe 4, and is specifically geared toward creators and professionals. So if you're looking to throw a Quadro into a motherboard to get some real work done, then this should fit the bill nicely. It even includes helpful onboard troubleshooting LEDs so if things go wrong while working you'll be able to quickly diagnose and get back to the task at hand.
Related: The 5 Best PC Fight Sticks of 2021https://progameguides.com/hardware/best-pc-fight-sticks/
For the water-cooled build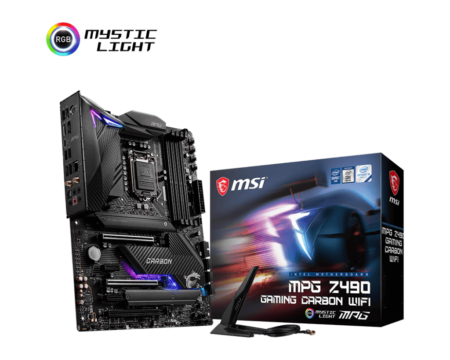 Water cooling has come a long way in recent years. It used to be a struggle to find tubing, fittings, pumps, and appropriate accessories to achieve a true water-cooled build. Thankfully things have gotten a lot better, and MSI is ready. This Z490 board from them features a dedicated pump fan header specifically to maintain control over your water cooling pump. In addition to your usual Z490 features it also has a stylish carbon fiber finish, built in Wi-Fi 6, RGB with support for MSI's Mystic Light software suite, and built-in M.2 heatsinks to keep drives running cool.
For the full ATX build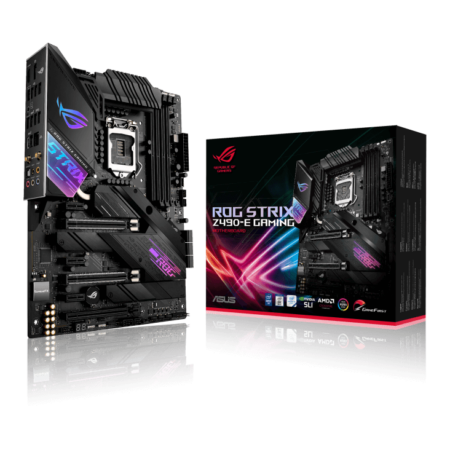 ASUS isn't kidding around with their ROG line of products. Sure, they may look flashy and includes lights and stylish shrouds, but they pack some serious hardware into this line. The Z490-E is no different; it's a full-size ATX board with a metal-armored PSU connector for heat dissipation, a high end voltage regulator for the CPU socket, super durable capacitors, and all the regular Z490 features that you would expect. They also include some of the best in class overclocking software with their AI Suite 3 built right in to board, which gives you granular control over your overclocking options. And to top it all off it looks awesome: like most ROG products it includes RGB, a solid built-in I/O shield, engraved heatsinks and shrouds, and all the usual flair that we've come to expect from ASUS. It also comes with Wi-Fi 6 and Bluetooth 5.1 support built right in so you don't have to bother with wireless adapters after the fact. Honestly the only thing missing from this board is PCIe 4 support, but if you're shopping for Comet Lake CPUs then chances are PCIe 3 (of which this board has dual x16 slots for) is more than likely plenty for your hardware setup.
Sometimes it can feel like a moot point when choosing a motherboard. You have to get one that supports the CPU you're installing and chipsets are so standardized across the industry that the majority of features and connectivity are the same across different motherboard manufacturers. But there are plenty of other vectors across which you should be selecting a motherboard. Color coordination, size, wireless support, and additional cooling features can all play a big part in exactly which motherboard you end up with. So don't just settle on the cheapest, bog-standard board that meets your CPU socket requirements: get out there and experiment and find something that will more specifically fit exactly what you want your computer to be. You're the one building it, after all!
For more hardware recommendations check out The 7 Most Comfortable Gaming Chairs in 2021 and The 5 Best Lightweight Gaming Mice of 2021 on Pro Game Guides.